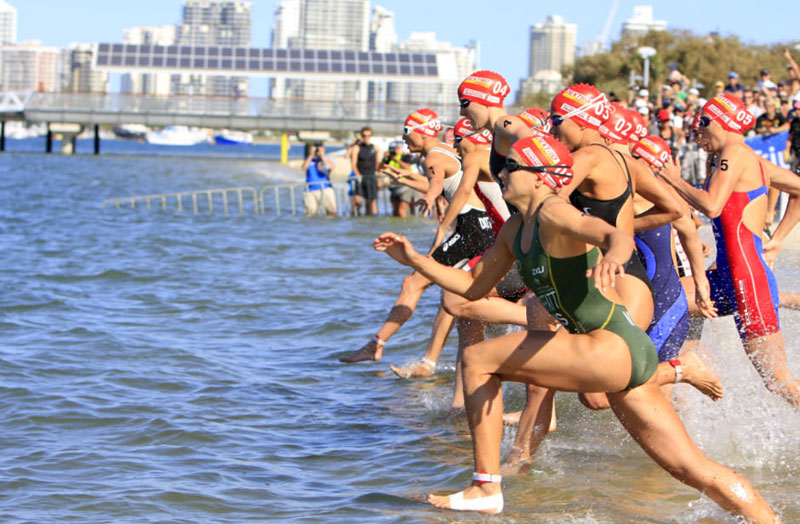 The Australia's Gold Coast has already witnessed plenty of triathlon history. It hosted just the third ITU World Championships in 1991, before becoming the first Grand Final host when the World Triathlon Series made its debut in 2009. Now the host of the 2018 Commonwealth Games is back on the Series circuit this weekend, and all of the top ranked athletes are out to play.
Headlining the women's race will be the formidable American Gwen Jorgensen. It has almost been a full calendar year since she was beaten in a World Triathlon Series race, having won the last seven consecutive races for a total of 10 WTS wins. In the men's race, the top ranked Jonathan Brownlee, Javier Gomez and Mario Mola will all line up.
ABOUT THE RACE:
Gold Coast served as the first Grand Final World Championship race for the ITU World Triathlon Series when the WTS first began back in 2009. That meant the race was the first World Championships which saw the world titles won over the course of the season in lieu of a one-day hit out race. With 70km of coastline, the "surfer's paradise" is also the perfect location for a triathlon. This weekend will see not only the elites compete, but also offers three different triathlons for athletes of all ages and abilities to get involved in the sport.
SCHEDULE:
Elite Women
Saturday 11 April – 11:06am UTC/GMT +10 Click here for the time in your area
Elite Men
Saturday 11 April – 16:06pm UTC/GMT+10 Click here for the time in your area
WEBSITES:
goldcoast.triathlon.org/
START LISTS:
Click here for the women's start list
Click here for the men's start list
PRIZE MONEY:
$150,000 USD (equal for men & women)