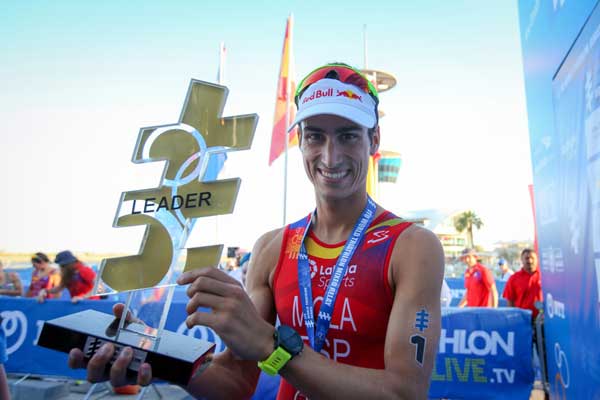 Abu Dhabi – Defending ITU World Champion Mario Mola made the most of near-perfect conditions at Yas Marina to take the tape at Daman WTS Abu Dhabi and begin the 2019 season with the kind of majestic display to which we have become accustomed.
Great Britain's Alex Yee impressed hugely on his WTS debut, sticking with Mola for much of the run to grab a brilliant silver, Spain's Fernando Alarza summoning a powerful finish for the bronze.
Mario Mola dominant at WTS Abu Dhabi
All of the ten top-ranked male athletes of 2018 took to the start line, but it was once again Richard Varga (SVK) who took up position at the front of the swim early on along with Alois Knabl (AUT). Behind them the pack's arrow formation made the first buoy a major test for the bulk of the field and while it began to stretch out, Vincent Luis (FRA) and Henri Schoeman (RSA) were able to keep themselves in the front eight along with Ben Kanute(USA) Sam Ward (NZL), with Mola (ESP) well set in the middle.
Luis had worked his way to the front by the end of the 750m swim, emerging with his thoughts firmly on a clean transition and it was the Frenchman first onto the bike along with Kanute and Schoeman. Some six seconds behind that trio, a pack of twelve was giving chase and, after initially struggling to get themselves organised, Matthew Sharpe (CAN) and Marten van Riel (BEL) led the effort to close down the leaders so that after 3km, a train of 15 athletes had formed.
Jumpei Furuya (JPN) and Ryan Baillie (AUS) were among the athletes to come off at the first sharp turn of lap two, but the chase pack 11 seconds off the front was now a formidable group including Mola, Shachar Sagiv(ISR) and Kristian Blummenfelt (NOR) along with debutant Alex Yee hoping to stay in touch and keep enough in the tank to deliver his trademark explosive run.
With two laps to go on the bike, Hayden Wilde (NZL) assumed the front with a solid train of more than 40 riders settling behind him, the big runners including Jacob Birtwhistle (AUS), Fernando Alarza, Vincent Luis and, of course, Mario Mola evenly spread among them.
Richard Murray (RSA) knew he would have to go easy on the tendon issue that had kept him from full running in pre-season, and he jockeyed to the front into T2 but it was Wilde still out front as the run got underway, Yee now 9 seconds off and well set alongside Luis, as Mola also looked to work through the field.
After a kilometre it was Wilde already stretching away to test a quartet of Schoeman, Sam Ward (NZL), Jonas Schomburg (GER) and Leo Bergere (FRA) now behind him, with the New Zealander looking very comfortable in his stride. Alex Yee and Vincent Luis then joined the chasers 5 second behind Wilde, before Yee made his move with 2km gone, just as Mola eased into position on the Brit's shoulder.
At the halfway point, Yee closed in on and then passed Wilde, before Mola eased to the front with 1700m to go. The Brit looked unfazed and hung on the defending champions shoulder, while behind them Henri Schoeman was eyeing third.

 As the Kiwi almost inevitably blew up from that almighty early solo effort, it was to be Alarza who then closed down Wilde with 750m to go and also passed Schoeman, before a sprint finale saw Leo Bergere outsprint the South African, Luis and Ward to take fourth, Hayden Wilde eventually finishing 10th after a brilliant opening effort of the new season.
Abu Dhabi 2019 Results: Elite Men
1. Mario Mola ESP 00:52:00
2. Alex Yee GBR 00:52:03
3. Fernando Alarza ESP 00:52:12
4. Léo Bergere FRA 00:52:14
5. Vincent Luis FRA 00:52:15
Abu Dhabi 2019 Women's Review
On a glorious Friday afternoon in the UAE, the USA's Katie Zaferes delivered a brilliant run to win the fifth WTS Abu Dhabi and claim a precious second World Series gold of her career as she looks to build her 2019 title challenge. Second overall last year, Zaferes put together a near-perfect race, followed over the line by a delighted Taylor Spivey (USA) and Jessica Learmonth (GBR).
Zaferes flew out of the blocks alongside Jessica Learmonth into the Yas Islan Marina, but it was Maya Kingma(NED) who was fastest over the first 200m, while behind there was a wide spread to the field early on. 

By the end of the swim, Zaferes was in control into transition and back out, Taylor Knibb, Summer Rappaport and Spivey making it an American quartet taking control going into the 20km bike. Meanwhile Great Britain's Vicky Hollandand Georgia Taylor Brown were 14 and 32 seconds back respectively.
Early disappointment for Canada's Joanna Brown saw her out of the race after a fall on the opening lap, while back up front the nine-deep lead pack included a returning Carolina Routier (ESP), Lotte Miller (NOR) and Australia's Emma Jeffcoat by the end of the first lap.
As Rappaport and Routier dropped off and a group of seven then settled into their rhythm out front, Laura Lindemann (GER) along with Britain's Holland, India Lee and Non Stanford trying hard, but with little luck, to organise the chasers who had dropped to 30 seconds back after two laps.

That gap continued to grow and was up to 40 seconds with 10km to go, Learmonth and Zaferes looking utterly focussed out front, Miller, Jeffcoat, Kingma and Knibb also at ease where by contrast the chasers continued losing ground with nobody seizing the reigns.
By the bell lap, Emma Jeffcoat had also dropped off the pace and the gap between the main packs was just shy of a minute, allowing the leaders time to prepare for a clear transition and find their run legs out of the congestion behind. 

Zaferes then wasted no time in laying down the gauntlet, looking to get the hard work done early and carve out some daylight between her and the five chasers by the end of the first kilometre. Spivey was also going well at the halfway point as Miller dropped off, and with the top two places looking assured with 1500m to go, the race came down to a superb battle for bronze between Learmonth and Knibb, the Brit battling back to prevent a USA podium clean-sweep.
Further back, Non Stanford had managed to run her way into fifth followed by Lotte Miller and Cassandre Beaugrand (FRA), defending champion Vicky Holland finishing in 8th place ahead of teammate Georgia Taylor-Brown and Ashleigh Gentle (AUS).
Abu Dhabi 2019 Results: Elite Women
1. Katie Zaferes USA 00:55:31
2. Taylor Spivey USA 00:55:57
3. Jessica Learmonth GBR 00:56:06
4. Taylor Knibb USA 00:56:09
5. Non Stanford GBR 00:56:37