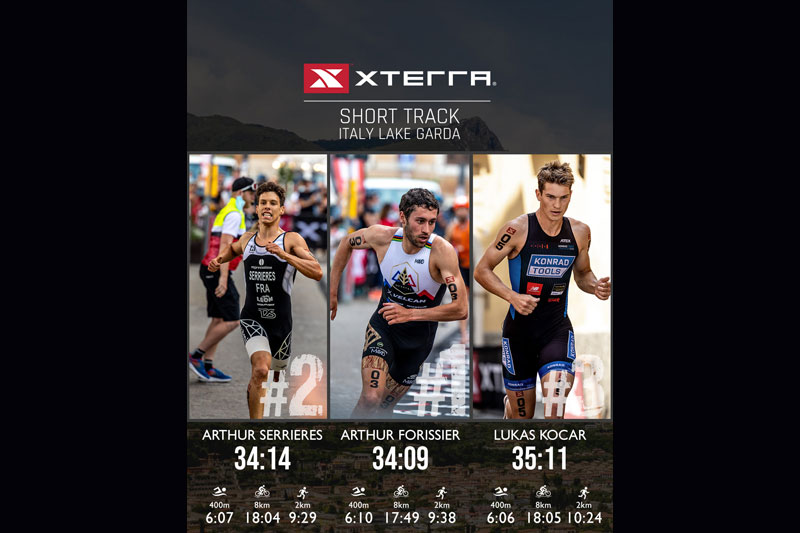 Lake Garda, Italy – (FRA) and Loanne Duvoisin (SUI) captured the XTERRA Short Track Italy Lake Garda elite races on Saturday, June 5, 2021 through the narrow streets of Toscolano-Maderno with winning times of 34:09 and 39:56, respectively.
Loanne Duvoisin wins Women's XTERRA Lake Garda title
In the women's race Alessia Orla established a strong lead after an impressive swim over the 400m distance, however, Sandra Mairhofer and Loanne Duvoisin were quick to reel her in on the bike, working their way to the front before the end of the first of four 1.7km bike lap.
Those two were neck-and-neck going into the run, sprinting out of transition stride for stride, with Eleanora Perconinci chasing hard less than one-minute behind. The steep sections of the run course pushed athletes to their limits, with Duvoisin finding an extra gear to eventually pull away to take the lead and cross the finish line in first place.
"It was a great battle with Sandra," said Duvoisin. "It was very hard on the bike and then during the run I stayed closed to her on the first part. On the uphill my legs were good, and I was able to push forward and take the lead."
Top 5 Women XTERRA Short Track Italy Lake Garda
Name (NAT) – Time
Loanne Duvoisin (SUI) – 0:39:56
Sandra Mairhofer (ITA) – 0:40:31
Eleonora Peroncini (ITA) – 0:41:20
Marta Menditto (ITA) – 0:41:43
Alessia Orla (ITA) – 0:42:08
Arthur Forissier wins Men's XTERRA Lake Garda title
The men's race proved just as close with plenty of fast-paced action and lead changes throughout. After a fast swim, a strong lead pack made up of Bonacina, Pesavento, Kocar, Serrieres, and Forissier pushed the limits on the bike as they navigated around the tight corners and over man-made obstacles.
After a win in the qualifying race, it looked like Lukas Kocar could be set to repeat his performance in the main event. The Czech athlete was leading into the third lap of the bike by 11 seconds on Arthur Forissier before a mechanical issue saw him lose time and drop positions.
"I was probably forcing the pace and tried powering over the obstacles which resulted in me dropping my chain on the third loop," said Kocar. "I tried to fix it quickly but lost about one minute. I felt really strong out there today, but it just wasn't meant to be."
New leader Arthur Forissier was first out on the run, with only a small gap separating him and his closest rival, Arthur Serrieres. There was suspense all the way to the finish line, but Forissier managed to hold onto the lead and be crowned the new champion of the first XTERRA Short Track in Lake Garda.
"I was feeling really good," said Forissier. "The plan was to push and give everything that I have and that was exactly what I did. I am just happy that it worked out for me on the day."
Top 5 Men XTERRA Short Track Italy Lake Garda
Name (NAT) – Time
Arthur Forissier (FRA) – 0:34: 09
Arthur Serrieres (FRA) – 0:34:12
Lukas Kocar (CZE) – 0:35:11
Michele Bonacina (ITA) – 0:35:30
Francois Carloni (FRA) – 0:35:39