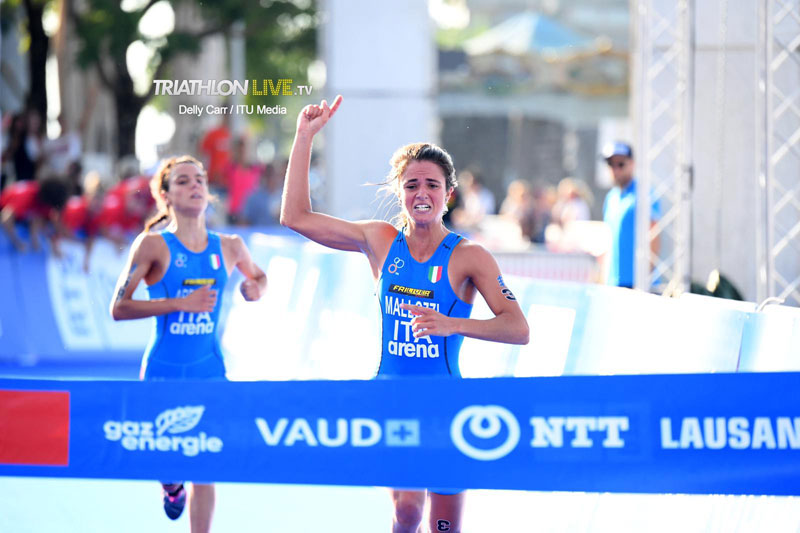 Switzerland – The female Junior athletes got the 2019 ITU Grand Finals Lausanne underway on Friday morning, and it was a huge performance from Italy's Beatrice Mallozzi to bring home a World title to go with May's European victory in Weert.
Beatrice Mallozzi wins Junior World title in Lausanne
"This race meant so much to me," said the Italian talent, who held her nerve to out sprint training partner Constanza Arpinelli to the line. "I had a good start to the run but in the second lap I had some problems with my stomach but I tried to focus and get to the finish for the win and I am very happy." France's Jessica Fullagar took the bronze.
Nerves were jangling as the athletes lined up for the 750m swim, a false start meaning they all had to be brought back to the pontoon and go through the pre-race motions once again. By the time they emerged from the water it was Gabriela Ribeiro (POR), Kira Gupta-Baltazar (CAN), Barbara de Koning (NED), Mercedes Romero (MEX) and Erin Wallace (GBR) who were all into transition together and out onto the bikes.
Two packs soon formed, Hong Kong's Bailee Brown powering forward the 18 lead riders, Anja Weber (SUI) also looking to try and stretch things out at the front but with little success. Barbara De Koning had slipped back and was 15 seconds off the pace alongside Mallozzi, a 17-strong group a further 20 seconds behind them.
Over the four laps the chasers managed to eat into that gap, though, and at the bell the lead was down to a little over 20 seconds. Sophia Green, Hannah Knighton and Constanza Arpinelli were also flying at this point, but the opening stages of the run would prove telling.
From a front group of thirteen all in check out of T2, the contenders were soon whittled down on the first climb of two on the 5km run. France's Jessica Fullager was pushing the early pace to see who could go with her, and it was only Hannah Knighton and the Italian pair of Arpinelli and Mallozzi who could keep the pace, Erin Wallace dropping back.
Knighton and Fullager had delivered incredible final bike laps to get to that point, and it looked to have taken its toll on the New Zealander as she began to fade on lap two. Then it was Arpinelli taking to the front with 500m to go, Mallozzi looking uncomfortable as she held her stomach, but it was after the final climb that Italy's European Junior champion gritted her teeth to battle through the discomfort.
As Fullagar faded, it was between the Italian training partners, and Mallozzi underlined her status as a name to watch for the future with the power sprint at the end to punch the tape with joy.
"I am really happy with that race," said Arpinelli, delighted with her silver. "I have never raced a World Championships and I really enjoyed it. We are teammates and we always train together so it's a big deal to race together."
"It was a really tough race and the course is hard but I am just so happy to come away with a medal," said Fullagar. "There were five of us as soon as we left transition and then it went down to four and then to three with 1km to go. I knew the Italians were really strong runners. That last hill really killed me so I hung on as long as I could but they were really strong so well done to them."
Lausanne Junior Female World title results

1 Beatrice Mallozzi ITA 01:00:41
2 Costanza Arpinelli ITA 01:00:42
3 Jessica Fullagar FRA 01:00:53
4 Hannah Knighton NZL 01:01:26
5 Erin Wallace GBR 01:01:47
6 Chisato Nakajima JPN 01:01:49
7 Nora Gmür SUI 01:01:54
8 Anja Weber SUI 01:01:58
9 Gillian Cridge USA 01:01:59
10 Brea Roderick NZL 01:02:01