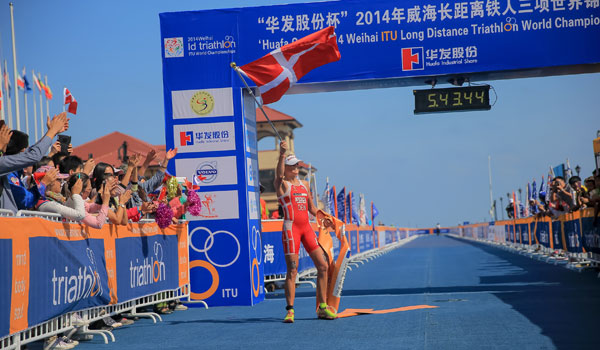 In the comeback story of the year, Camilla Pedersen (DEN) clenched her first world title at the Long Distance Triathlon World Championships in Weihai, China.
"It is one year since my bad accident. I have come back and I am speechless," said Pedersen, who crashed on her bike nearly a year ago and was required to be in an induced coma for the better part of a month. At the time it was unclear if Pedersen would survive, much less compete ever again.
Short course triathlon stars Andrea Hewitt (NZL) and Laura Bennett (USA) got the day started with the fastest swims of the day. Together the ladies left the water with more than two minutes over Pedersen and the field.
However, like the men's race, it was the bike that would decide the podium. As a strong cyclist, Pedersen clocked the fastest split of the day to move from the lead of the chase to the leader of the race. With a time three minutes faster than anybody else, Pedersen ran towards the finish line clear of the competition.
Despite her healthy lead, Pederson never let up, crossing the line with the fastest time of the day and the second fastest run split. The win ended both a rollercoaster year and a streak of second-place finishes at the championship race.
Although Kaisa Lehtonen (FIN) was more than four minutes down out of the swim, she also took charge of the bike to move into silver medal position. Lehtonen held onto her position with the fastest run of the day to win her first medal at her first appearance at the championship event.
Hewitt, who also tried her hand at the longer distance for the first time, was well positioned for gold or silver but a crash caused the Kiwi to fall behind. However, she managed to hang tough in the race and rounded out the top three.