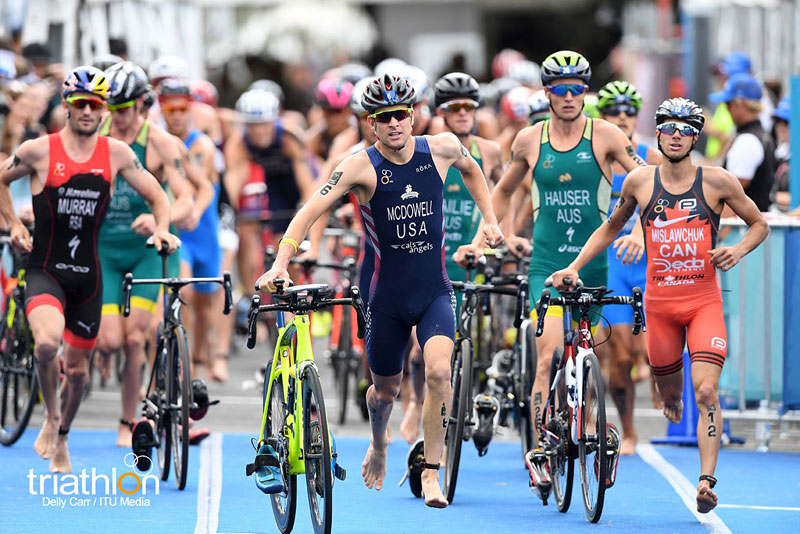 MOOLOOLABA, AUSTRALIA – For the 16th consecutive year, world's top triathletes gathered in the Sunshine Coast this weekend to participate in the second stop of the ITU World Cup Tour, in Mooloolaba (Australia).
Richard Murray and Emma Jeffcoat win Mooloolaba 2018 titles on the ITU World Cup Tour
Richard Murray and Emma Jeffcoat, claimed the Mooloolaba 2018 titles, part of the ITU World Cup Tour, on the Sunshine Coast, Australia on Saturday 10th March.
Mooloolaba 2018 Women's Review
Australia's Emma Jeffcoat was the one to beat in 2018 ITU Mooloolaba World Cup today. Championed with a home crowd, Jeffcoat dominated today's race to win gold and step on top of the World Cup podium.
With a strong Australian surf background, it was no surprise that Jeffcoat led the field of women out of the 750m ocean swim solo, in favorable conditions, before heading onto the 4-lapped bike course.
"That's racing, you've got to play to the conditions and I am lucky to have a surf background that let me get that advantage to set up for a good race," said Jeffcoat.
Kasper, a run specialist, wasn't letting Jeffcoat out of sight however didn't quite have the turnover to play catch and claimed the silver medal today.
"Emma was the one to beat today. She was full on right from the start. I just tried to give it my all. It's not like me to fall off that early but coming off Abu Dhabi I can't complain with that result," said Kasper.
It was Olmo from Italy who produced an impressive performance to round out today's podium with a bronze finish. "First podium, so happy. I worked really hard this Winter and I wanted to achieve a result like this so I am really surprised but happy," Olmo said.
Mooloolaba 2018 Results: Elite Women
1.Emma Jeffcoat AUS 00:59:35
2.Kirsten Kasper USA 00:59:51
3.Angelica Olmo ITA 01:00:00
4.Nicole Van Der Kaay NZL 01:00:07
5.Natalie Van Coevorden AUS 01:00:15
6.Charlotte McShane AUS 01:00:18
7.Tamara Gorman USA 01:00:29
8.Beth Potter GBR 01:00:52
9.Amelie Kretz CAN 01:00:59
10.Deborah Lynch NZL 01:01:11
Mooloolaba 2018 Men's review
South Africa's Richard Murray was top seeded leading into today's race and he certainly didn't disappoint by motoring home to claim victory in the 2018 Mooloolaba ITU Triathlon World Cup.
"There was a lot of looking up and sitting around, a couple of the guys tried to break away. I tried to break away myself, not particularly sure why, but thought it would be good to get a hard ride in today," said Murray.
Australian triathlete Matthew Hauser, who was crowned Junior World Champion at the 2017 ITU World Triathlon Grand Final in Rotterdam, put Murray to the test on the run. "It was a great hit out today ahead of the Commonwealth Games in April. "I managed to handle myself on the bike and stay tucked into the pack and was able to have a bit of a kick at the end and come home for second place," said Hauser.
American Matthew McElroy bolstered across the finish line to claim bronze and round out the elite men's podium. "Super stoked with the performance and to be on the podium to set the year off.
"It was the perfect course for me, I have a surfing background so the swim was great and I also come from a running background," McElroy said.
Mooloolaba 2018 Results: Elite Men
1. Richard Murray RSA 00:53:09
2. Matthew Hauser AUS 00:53:13
3. Matthew McElroy USA 00:53:17
4. Sam Ward NZL 00:53:33
5. Tony Dodds NZL 00:53:38
6. Vicente Hernandez ESP 00:53:40
7. Morgan Pearson USA 00:53:42
8. Luke Willian AUS 00:53:44
9. Tyler Mislawchuk CAN 00:53:49
10. Kevin McDowell USA 00:53:52