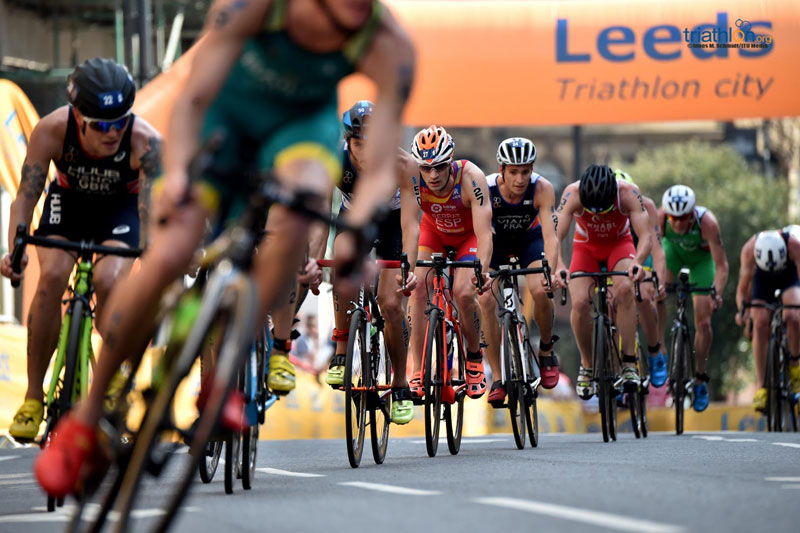 British Vicky Holland and South African Richard Murray claimed the AJ Bell World Triathlon Leeds victory on a steamy Sunday afternoon in the north of England, with some stunning performances in front of a delirious crowd of 70,000 fans.
Holland and Murray claim the victory under the Leeds sun
World Triathlon Leeds Women's review
Sunday afternoon in the sun-kissed city of Leeds saw Vicky Holland of Great Britain deliver one of the performances of her career to earn a tough third WTS gold in front of a delirious crowd of 70,000 fans. The win caps a strong first half of the year for Holland, who finished second in Bermuda and fourth in the Commonwealth Games. Teammate Georgia Taylor-Browne came home second to secure a first ever World Series podium, with USA's Katie Zaferes finishing third."That was the toughest podium so far for me. It was a yo-yo of a race and I don't really know how but I managed to end up on top," said Holland after her first WTS win since 2015.
"I had a fantastic start but ended up in no-man's land, so I take my hat off to Sophie and Georgia who were so strong on the bikes. It was a war of attrition but I somehow came out on top. It's been nearly three years since I won a big race and I wasn't sure that I would ever stand on top of a big podium like this again."
World Triathlon Leeds Results: Elite Women
1. Vicky Holland GBR 01:56:32
2. Georgia Taylor-Brown GBR 01:56:49
3. Katie Zaferes USA 01:57:02
4. Rachel Klamer NED 01:57:24
5. Leonie Periault FRA 01:57:24
World Triathlon Leeds Men's Review
A gutsy run from Richard Murray secured the South African his first-ever Olympic distance WTS gold in AJ Bell World Triathlon Leeds on a steamy Sunday afternoon in the north of England. Murray put down the hammer on the first lap of the 10km run to carve out what proved to be an unassailable lead despite the best efforts of race no.1 Mario Mola. The Spaniard finished second after pulling away on the final lap from Vincent Luis of France who took the bronze.
"During the swim today I actually thought I should retire from triathlon," said a smiling Murray after the race. "I was way behind the pack in the swim, it was really tough. But during the bike I started feeling better and by the run I felt pretty good".
"I always look back too soon so this time I just wanted to focus 100% on my race, and I'm delighted with my first win over the Olympic distance."
World Triathlon Leeds Results: Elite Men
1. Richard Murray RSA 01:45:52
2. Mario Mola ESP 01:46:01
3. Vincent Luis FRA 01:46:14
4. Pierre Le Corre FRA 01:46:27
5. Marten Van Riel BEL 01:47:03