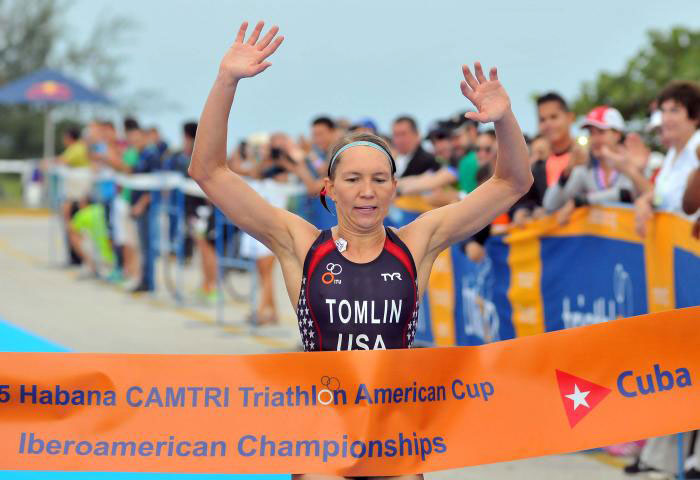 Rodrigo Gonzalez of Mexico and Renee Tomlin of the USA dominated the 2015 CAMTRI American Cup in Havana, which also served as the 2015 Iberoamerican Championships.
Tomlin proved to be the strongest in the 5km run to claim her first victory of the season as she completed the sprint distance in 1:04:22 hours.
Fellow American Kirsten Kasper was her closest at the finish line, 12 seconds adrift, followed by Spain's Tamara Gomez Garrido (1:04:53).
"I am excited with the victory, and it sets the tone for 2015. This is a really special event, not just for triathlon but in general between Cuba and the United States, just to enhance neighbourly relations. The timing is so perfect for us to come over. It means a lot," said a smiling Tomlin.
"For me starting the journey here in Cuba was very special. I couldn't ask for a better start of the 2015 season. More than the time, it was about the experience racing in Cuba. The flat course helped me test my race tactics and the weather held off," she added.
Challenging a pouring rain that started to fall in the second half of the bike, Rodrigo Gonzalez found an extra gear to take the title in 57:48, ahead of Italy's Daniel Hofer (58:21) and Ireland's Bryan Keane (58:25). Cuba's Michel Gonzalez finished fourth.
"I did not have great expectations coming into this competition considering my current form. The weather was a factor, especially with the heavy rain in the run. But overall, I enjoyed the experience and I hope to come back," Mexico's Gonzalez commented.
The elite race, which drew athletes from 14 countries, also served as the 2015 Iberoamerican Champions. The first ITU race in Cuba since 2006 was also special with the presence of 27 athletes from the USA, both in the elite and age-group categories.
"It is tremendous. We are really excited. To speak to each one of our athletes this morning, you just saw on their faces their smiles, that it was really about the experience. It is great to see Renee and Kirsten finish one-two, but I think even they were talking more about their experiences around town, meeting people. It is really wonderful for everyone," said Barry Siff, president of the USA Triathlon Federation.
One month after US President Barack Obama's announcement to re-establish relations with Cuba, the 27-athlete US delegation became the first US triathletes to race on the neighbouring island since the 1998 Pan American Triathlon Championships.
The 2015 Havana International Triathlon also featured the Iberoamerican Championships in the middle and long distances on Sunday.