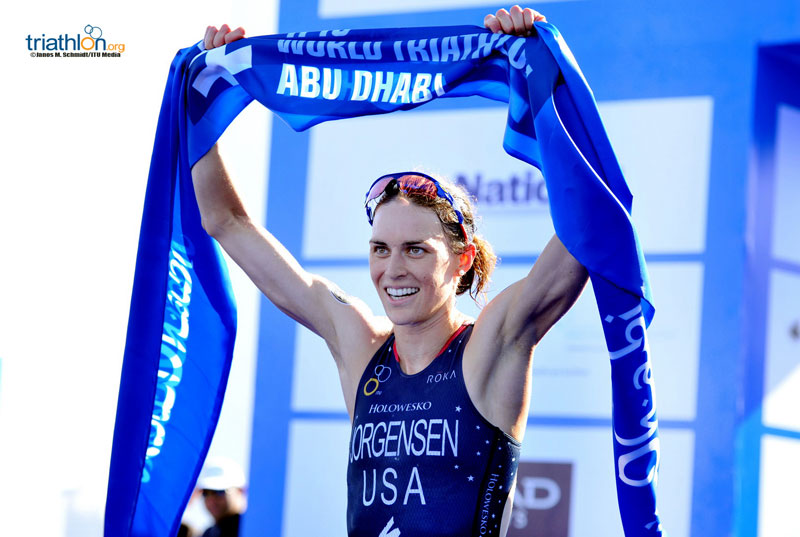 The 2015 World Triathlon Series started exactly where it left off last year, when reigning ITU World Champion Gwen Jorgensen proved that she will again be the woman to beat with a stunning performance in Abu Dhabi's season opener on Saturday.
Jorgensen left the water 35 seconds down on the leaders, and then stepped onto the run course around one minute down. But in an incredible burst of speed, the Threadneedle No.1 cut 45 seconds of that deficit in the first 2.5km lap. She took the lead from Bermuda's Flora Duffy with about 1.5km to go and pushed further ahead to win comfortably, in a time of 58 minutes and 58 seconds. Her run split was 15 minutes and 57 seconds.
"I was shocked by how fast I ran," Jorgensen said straight after the race. "…I've had some good run sessions but I didn't know I was running that well…you can't give up until the finish line, that's something I've learned."
Behind her Katie Zaferes (nee Hursey), finally broke her bad streak of World Triathlon Series luck. While a multiple World Cup winner, Zaferes had struggled to transfer that to series races, with mechanical issues and injuries the main culprits, but did so in fine form in Abu Dhabi.
"This has been my goal since I've started triathlon so to finally achieve it I'm pretty stoked," she said.
Behind her Bermuda's Duffy broke through for her first World Triathlon Series medal.
Earlier the 2015 season started with a bang in the clear blue waters of Abu Dhabi, which was making its debut on the World Triathlon Series circuit. Spain's Carolina Routier picked up right where she left off, rocking through the one-lap Gulf swim to lead the ladies into transition with a 10 second advantage. Last year's runner up in the Threadneedle Rankings, Sarah True tucked herself into strong position with the lead swim pack. Together, a small group of 11 women took off for the four-lap bike with a small but important distance from a dangerous chase that contained reigning World Champion Jorgensen and third-ranked Andrea Hewitt.
Despite the likes of Haug and Hewitt pulling the chase, with strong cyclists Duffy and Lisa Norden at the helm of lead bike pack, there was little opportunity for the chase to decrease their deficit. Though it initially appeared like they had, the gap to the chase pack was just 14 seconds after the first 5km lap, but it didn't remain that way.
Just after the halfway point Norden, Duffy and Lucy Hall decided to make a break off the front. That pushed the pace of those immediately behind them, as Jerdonek and Zaferes bridged up to join them. By the 15km mark the pressure piled on by this group meant the large chase group was pushed back to 40 seconds again, and just over a minute at the second transition.
But that deficit didn't phase Jorgensen at all, as she immediately started cutting through the field. While Duffy strode to the front and stayed there for most of the run, even she couldn't hold off the force that is Jorgensen in full flight.
The title is her third World Triathlon Series sprint title. Of eight WTS sprint distance races, Jorgensen is the only woman to have won more than one. Overall, it is Jorgensen's ninth World Triathlon Series win, and continuing on a streak that started last year, her sixth World Triathlon Series win in a row.
2015 World Triathlon Abu Dhabi – 7 March
750m swim – 20km bike – 5km run – Final Results – Elite Women
1. Gwen Jorgensen USA US 00:58:59
2. Katie Zaferes USA US 00:59:15
3. Flora Duffy BER BM 00:59:23
4. Barbara Riveros CHI CL 00:59:37
5. Andrea Hewitt NZL NZ 00:59:38
6. Lindsey Jerdonek USA US 00:59:40
7. Charlotte McShane AUS AU 00:59:44
8. Yuka Sato JPN JP 00:59:48
9. Sarah True USA US 00:59:51
10. Kaitlin Donner USA US 00:59:53