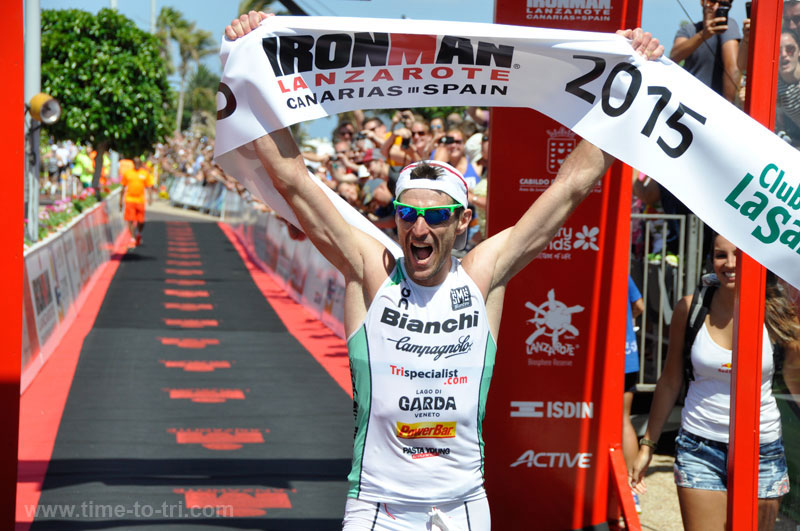 Alessandro Degasperi of Italy and Diana Riesler of Germany took the Lanzarote Ironman 2015 titles in the most challenging of conditions the small Atlantic island could throw at them.
For the Italian, Degasperi, victory was an exceptionally hard fought one, only taking the lead from Germany's Christian Kramer over the last 5km of the marathon (42.2k) run.
Lanzarote Ironman 2015 unfolds
Degasperi had to fight back right from the start of the swim leg, where he would come out of the water in 51:10  compared to Kramer's 48:20. a 2:50 deficit.
The German, who rode with a rear disc wheel, in the challenging windy conditions, had a simply majestic bike leg. As a demonstration of superb form and technique, Kramer was a joy to watch. At no time did he look like he was riding too hard, as some would have you believe. It was controlled, it was decisive and a ride which should have set him up for victory. With a 2:59 marathon, the 4th fastest on the day, this would have been sufficient on any other given day.
Degasperi had ridden a 5:12:12 bike leg compared to 5:05:51 and had lost a further 6:21 on the leader. The Italian's ride was good for 5th on the day.
At the start of Degasperi's run he was over 9 minutes behind, having lost a few seconds during the swim to bike transition. However, his run leg was a superb 2:47:15. In the 'now' hot and challenging conditions, a remarkable feat.
The major contributing factor (imo) to aiding Degasperi's win, was Belgium's Bert Jammaer. Bert had maintained pressure on Kramer throughout the event. With this being Bert's last IM as a PRO, he would have ideally wanted to go out with a win, and with a different strategy may have come a great deal closer than his eventual 5th place finish.
With a 48:25 swim and a 5:09:27 ride (2nd fastest), Jammaer had the opportunity to put his local knowledge of the course to good use, however he made the mistake of applying pressure too strongly particularly over the 1st 5km. (this knowledge gained via feedback from the announcers as well as after race stats)
Bert: 5.1 km     19:44     6:23:32     3:52/km
Christian: 5.1 km     5.1 km     20:29     6:20:46     4:01/km
No doubt Kramer's team would have provided feedback that Bert was closing, and the pressure at that moment would have been cause for concern. Their next 5.7k was pretty evenly matched
Bert: 5.7 km     23:24     6:46:57     4:06/km
Christian: 5.7 km     23:31     6:44:18     4:07/km
and once feedback came that Bert had begun to fade, there could only have been relief. With Kramer coming through 21k, he must have felt sure that with the steady pace he was now running he had the race sewn up. Alessandro, however, was absolutely flying and his stats over the same distance in comparison were staggering:
his first: 5.1 km     5.1 km     18:51     6:28:25     3:41/km
closed just under 5 minutes in the first segment and then followed this up with
10.8 km     5.7 km     22:21     6:50:47     3:55/km
16.5 km     5.7 km     21:44     7:12:32     3:48/km
21.6 km     5.1 km     19:34     7:32:06     3:50/km
What must be noted is that the 1st half marathon of the course is 1 loop followed by a further 2 x 10k+ loops, which makes the 2nd half tougher than the first, as this makes for slightly more inclines which are best described as painful, this late into the event.
By the time the Italian had caught the long time leader, he had slowed to running 4:15 per km compared to the German's 4:27. By now the renewed pressure of Degasperi came on an athlete who was a spent force, but who was still able to post a sub 3hr time of 2:59:14 for the marathon, in incredibly difficult conditions.
For Degasperi, chasing down the long time leader must have been great motivation, despite slowing after a truly fast start, which was rewarded with a well deserved victory.
There were plenty of tired bodies around after this hard fought battle.
Rounding off the Men's podium was Switzerland's Mauro Baertsch, who fought his way back from 25th overall after a 52:04 swim, then riding a solid bike leg of 5:10:48, backed up with a decent 2:54:13 run, which would move him into a well-deserved 3rd place, with an overall time of 9:04:45.
Spain's interest, Miquel Blanchart, was in contention after the swim leg (48:33) but lost contact over the cycle leg (5:24:26), before running the 2nd fastest run split of the day (2:51:42) to take him into 4th spot ahead of the tiring Jammaer.
A competitive day for the men, while the Women's race unfolded on the cycle leg giving Reisler an insurmountable lead
Diana Riesler comfortable winner
The German, Riesler's race towards the line went unchallenged, after taking the lead on the bike leg. Michl Herlbauer of Austria set the pace by taking the lead after a strong swim (53:21), and the slightly built triathlete would have fancied her chances more of leading from the start to the finish, were it not for the tough windy conditions experienced on the bike leg.
Where Herlbauer may have struggled, Riesler excelled and by Mancha Blanca, she had edged ahead by 58 seconds (2:58:50 into the race and just over 2hrs in the saddle after a 55:40 swim), and would go on to further dominate the cycle leg by posting a 5:37:11 bike split compared to Herlbauer's 5:58:16.
With Riesler rounding off with a 3:16:20 marathon compared to her nearest challenger's 3:15:05, she was never under threat. Her total time of  09:56:03 was good enough for 20th spot overall. Herlbauer 2nd in 10:13:59.
Rounding off the podium was Britain's Caroline Livesey, 10:31:56, who would fight from her 10th place after the swim (58:47) to carve her way through the field on the bike, in the truly testing conditions. For the Brit, it was a well cherished 3rd place, made even more special when considering that she still holds full time employment, as a chartered engineer, and juggles her 20 – 25hr training week around her 40 to 45hr work week.
Taiwan's Shiao-Yu Li in 4th place (10:33:42), deserves special mention, after being way off after the swim leg (01:05:31) and a none to convincing bike (06:07:41), of what was to follow. Asia's number one female triathlete, posted the fastest run leg of the day with 03:12:47 and closed to within less than 2 minutes of a podium finish.
Spain and the island of Lanzarote's big hope, Saleta Castro, faded out of contention after a promising swim, where she was 2nd with 53:42. With a bike ride of 06:09:27, the 5th fastest on the day, was followed with a disappointing 3:41:01 marathon, she had to be content with 7th place. She had mentioned at the press conference the day before, that she was not in the best of condition, but was still hoping to give it her best shot.
The grueling conditions of the day made the Lanzarote Ironman 2015 live up to its reputation of being the toughest Ironman in the World
Lanzarote Ironman 2015 Men Top 5
Degasperi, Alessandro     ITA   08:56:49
Kramer, Christian     DEU   08:59:30
Baertsch, Mauro     CHE   09:04:45
Blanchart Tintó, Miquel ESP   09:10:25
Jammaer, Bert             BEL   09:12:05
Lanzarote Ironman 2015 Women Top 5
Riesler, Diana     DEU 09:56:03
Herlbauer, Michi AUT 10:13:49
Livesey, Caroline GBR 10:31:56
Li, Shiao-Yu TWN 10:33:42
Walter, Verena DEU 10:44:40