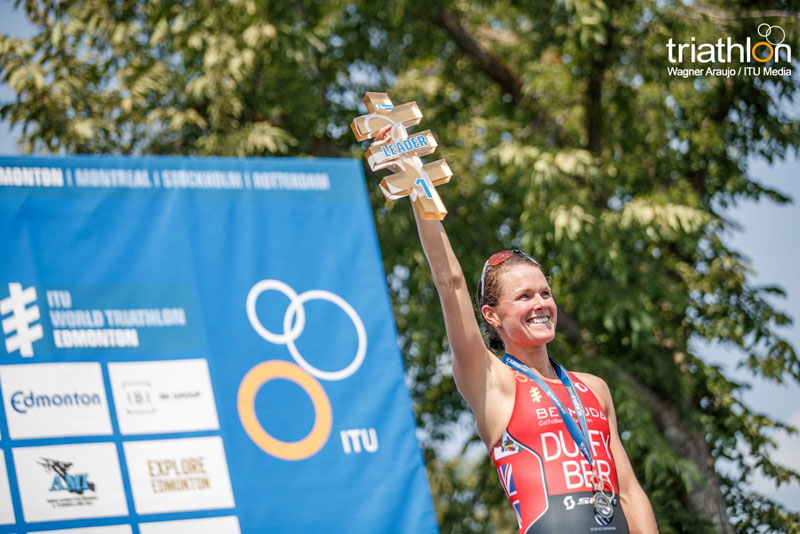 EDMONTON, CANADA – In the sixth event of the 2017 World Triathlon Series, Bermuda's Flora Duffy and Spaniard Mario Mola earned first-time WTS Edmonton wins to claim their fourth victories of the season, moving both into the leader position for the overall Series with only three races to go until the World Champion is crowned.
Flora Duffy (BER) and Mario Mola (ESP) earn first-time WTS Edmonton victories
WOMEN'S RECAP
The 2017 season seems to be the perfect one for Bermudian Flora Duffy, who claimed her fourth victory in a row in the World Triathlon series, after winning by a close margin in the Sprint race in Edmonton. The now leader of the series, Flora, was joined on the podium by young American Tayler Knibb and fellow compatriot Katie Zaferes.
"It was pretty spot on, so thank you, Edmonton", said Duffy after her victory. "Taylor (Knibbb) is riding super strong at the moment, I have been in a breakaway with her before, in Montreal last year, We worked together really well, but she was so strong I thought she might be running really strong too, so I attacked her on the last hill to get a little buffer."
With a sunny and warm day in Edmonton, 33 women dive in the water for a 750m swim that was lead since the very first strokes by Spaniard Carolina Routier. She was joined after the first buoy by American Summer Cook and Brazilian Vanessa Lopes, and the three of them led the pack out of the water.
But they were closely followed by an impressive American army in the water, with Kirsten Kasper, Katie Zaferes, Taylor Spivey and Tayler Knibb were among the first few athletes out of the water as well as Flora Duffy, all with a super fast swim under nine minutes.
2017 ITU World Triathlon Edmonton – Women's Results
Results: Elite Women
1. Flora Duffy BER 01:00:22
2. Taylor Knibb USA 01:01:22
3. Katie Zaferes USA 01:01:51
4. Summer Cook USA 01:02:03
5. Jolanda Annen SUI 01:02:09
6. Rachel Klamer NED 01:02:14
7. Joanna Brown CAN 01:02:20
8. Yuka Sato JPN 01:02:26
9. Kirsten Kasper USA 01:02:42
10. Chelsea Burns USA 01:02:54
MEN'S RECAP
A furious sprint in the last kilometer gave Spaniard Mario Mola his fourth victory of the season after claiming gold in the 2017 ITU World Triathlon Edmonton. Second place was for Australian Jake Birthwisthle, while South African Richard Murray claimed bronze.
The race started with Slovakian Richard Varga leading the 750m swim, exactly the way he's been doing it over the last 30 WTS races he has started.
Only a couple of seconds behind him, a.strong group of swimmers followed, with Jonathan Brownlee, Aaron Royle and Ben Kanute included. And almost 20 seconds behind, the Spanish trio along with some.of the other contendants in Edmonton, such as Richard Murray or Jake Birthwisthle.
And with all of them grouped in transition, in a matter of seconds a large group of more than 20 athletes was formed on the lead, and stood the same for the 20 km of the new bike course, including a terrific hill on each lap.
Continuous lead changes ended up with all of them arriving together to the transition once more, with all to be decided on the run.
The flat 5km was once more when Mola showed that he is the one to beat this season. Even though this time he was close to be beaten by his training mate, Birthwisthle, who flew past him with two laps to go.
Maybe a bit early, enough for Mola to push hard on the last kilometer and put himself again in first position, to cross the finish line stopping the clock on 54.51, 10 seconds ahead of Birthwisthle, who claimed his third silver medal in his WTS career and showcased the best run of the day. On the battle for bronze, another running specialist, Murray, ended up third, 8 seconds ahead of Jonathan Brownlee.
2017 ITU World Triathlon Edmonton – Men's Results
Results: Elite Men
1. Mario Mola ESP 00:54:51
2. Jacob Birtwhistle AUS 00:55:01
3. Richard Murray RSA 00:55:06
4. Jonathan Brownlee GBR 00:55:14
5. Raphael Montoya FRA 00:55:19
6. Javier Gomez Noya ESP 00:55:24
7. Pierre Le Corre FRA 00:55:28
8. Kristian Blummenfelt NOR 00:55:31
9. Fernando Alarza ESP 00:55:36
10. Grant Sheldon GBR 00:55:39