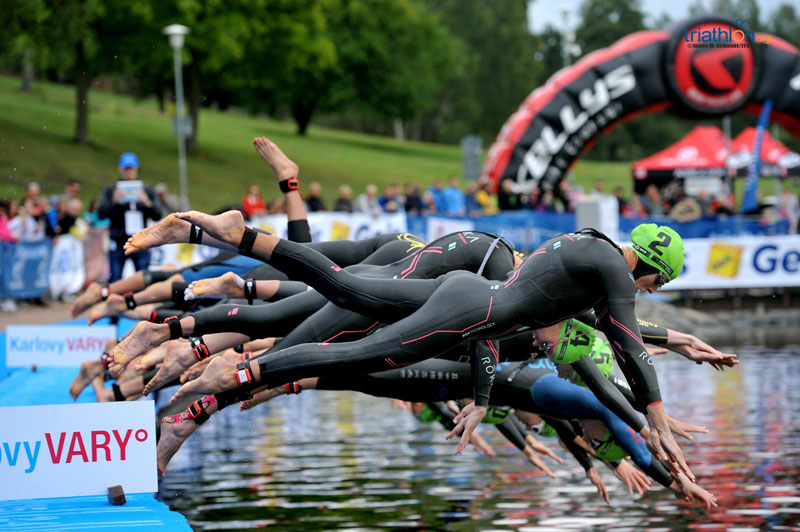 KARLOVY VARY, CZECH REPUBLIC – Australian Gillian Backhouse and Norwegian Gustav Iden claimed the inaugural titles at the 2017 ITU Karlovy Vary World Cup. Backhouse dominated the race from the beginning to the end, and was followed on the finish line by local star, Vendula Frintova (CZE) and Summer Cooks (USA). In the men's race, Gustav Iden astonished with a come from behind run that gave him his first ever World Cup win. With him in the podium were Italian Alessandro Fabian and Kiwi Tayler Reid.
2017 ITU Karlovy Vary World Cup Women
Australian Gillian Backhouse won the first ever edition of the ITU Karlovy Vary World Cup after a dominant race, showcasing a magnificent swim, a strong bike and a consistent run in the hills and cobbled streets of the Czech Republic town. Cheered on by the local crowds, local triathlete Vendula Frintova crossed the finish line in second, while American Summer Cook finished third.
"I am really happy to be back into top level racing. I've been swimming very well all year, so I knew that I'll be there in the swim, probably with Summer. My plan was just to go full gas on the bike from the beginning cause there were a number of girls in the field who can run faster than I can and I didn't want them with me on the bike", said Backhouse after the race.
"In a course like this you don't get much advantage with drafting and going by yourself you can take the best line, and so I did. it was my race plan: swim hard, bike hard, and see what happens on the run".
The Aussie, who hadn't been on the top of an ITU podium since 2014, executed her race plan perfectly. With 25 athletes taking the start in the Rulova lake, it took only a few meters for Bakchouse and Cook to lead the swim. They both left the water together, but the American struggled to get out of her wetsuit, which caused her to loose some precious seconds in transition one, enough for the Aussie to start riding solo.
And solo she rode for the 40km, seven laps in the historic city center of the beautiful spa town, increasing the gap lap by lap, until she had a 2'10'' difference with the chasers.
Behind her, a big group joined efforts on trying to chase the Aussie, but with no luck. Local Frintova led the big group from the beginning, along with some other experienced athletes, such as Emma Jackson, Nicole Van der Kaay, Sandra Dodet and Summer Cook, but the technical course proved to be too hard for them to chase a solo rider.
2017 ITU Karlovy Vary World Cup – Results – Elite Women
1. Gillian Backhouse AUS 02:03:29
2. Vendula Frintova CZE 02:04:31
3. Summer Cook USA 02:04:56
4. Nicole Van Der Kaay NZL 02:05:27
5. Emma Jackson AUS 02:05:27
6. Felicity Sheedy-Ryan AUS 02:05:31
7. Chelsea Sodaro USA 02:06:05
8. Sandra Dodet FRA 02:06:07
9. Zsófia Kovács HUN 02:06:11
10. Julie Derron SUI 02:06:11
2017 ITU Karlovy Vary World Cup Men
It was a day of firsts in Karlovy Vary for the inaugural ITU World Cup. First time ever Gustav Iden(NOR) has won a World Cup, with an impressive performance, and another first Tayler Reid (NZL) got on the podium in a World Cup, as he finished third. Completing the podium, veteran Italian, Alessandro Fabian, got his first podium of the season after some months off racing following the Rio 2016 Olympics.
"I am extremely happy. We did such a great team effort on the bike. It means quite a lot to me to be on a World Cup podium. I was on a training camp those past weeks and I told my team mates that this one was the one race for me to win. The course is really hard, but I like it. I saw it (the course) last year and thought that this is my kind of course and I wanted to do this race, so here I am", said Iden after the race.
The afternoon was warmer as the sun came out for the men's race in the Rulava lake, with 64 athletes diving in the pontoon for a two-laps swim which was led, to no one's surprise, by Slovakian Richard Varga. He was closely followed by Tayler Reid (NZL), Jonas Schomburg (ITU), Alessandro Fabian (ITA) and Jumpei Furuya (JPN), and they quickly broke away from the rest of the athletes before getting to the city loops. Some other strong swimmers, such as Dmitry Polyanskiy (RUS) or Seth Rider (USA) never managed to get in the front group, and were caught by the large chase pack.
At the end of the fifth lap, with a large group of 25 athletes chasing the leaders and with a time difference of more than 2 minutes, four triathletes broke away from the large group and worked together to chase the five men, with three Norwegians -Gustav Iden, Casper Stornes and Endre Espedal, along with Stefan Zachäus (LUX) pushing together to fight for their options. And they played their cards smartly, working together as a team, and with a fourth Norwegian -Morten Hansen- left behind to do most of the work in the third group.
2017 ITU Karlovy Vary World Cup – Results – Elite Men
1. Gustav Iden NOR 01:49:06
2. Alessandro Fabian ITA 01:49:39
3. Tayler Reid NZL 01:50:22
4. Jonas Schomburg ITU 01:50:29
5. Maxime Hueber-Moosbrugger FRA 01:50:30
6. Jonathan Zipf GER 01:50:33
7. Richard Varga SVK 01:50:41
8. Wian Sullwald RSA 01:50:59
9. Massimo De Ponti ITA 01:51:00
10. Casper Stornes NOR 01:51:07