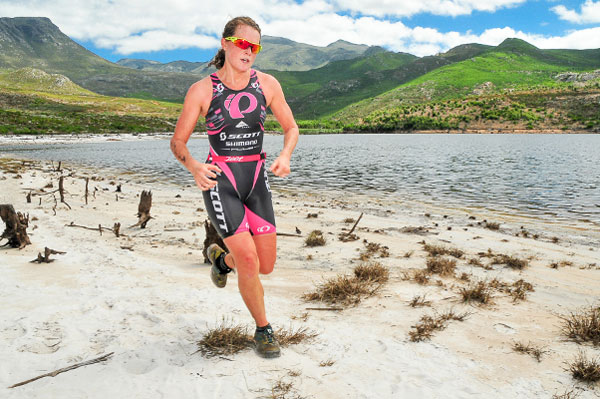 The atmosphere was tense at the start of the 2014 Totalsports XTERRA South African Championship presented by REHIDRAT® SPORT on Sunday, 23 February 2014.  Top XTERRA Warriors Dan Hugo (South Africa) and Flora Duffy (Bermuda) had the crowd on their feet as they crossed the finish line first in the men's and women's races respectively claiming the coveted title of Totalsports XTERRA South African Champion for 2014.
Hugo, Duffy Victorius at SA Xterra Champs
According to Hugo this is his 4th, but most meaningful Totalsports XTERRA SA Championship title.  "I wanted this win for a few reasons.  The event doesn't only keep growing in participants, but it keeps growing in stature too.  This year Stillwater Sport & Entertainment has upped the prize purse.  It's a global event and I assure you there are a number of international guys following the event via social media to see what's happening.  Conrad Stoltz has set the bar for many years and I really wanted to beat him on his course.  My plan was to go out aggressively on the swim.  On the mountain bike I passed Rory Downie of Scotland shortly after he got King Of The Mountain, from there I never say anybody again.  Coming off the bike I was knackered, but my running has gotten better and I believed I could do it.  I wanted the win, I needed the win," said am emotional Hugo, who  completed the 1.5km swim, 27km mountain bike and 11km trail run in an impressive time of 02hours29minutes25seconds.  The second and third spots on the podium were snatched up by fellow South Africans Stuart Marais and Conrad Stoltz.
"Pro wins are hard to come by," said a delighted Duffy.  "I was just lucky to put a good race together today.  Although I was the first lady out the water, I was a little further behind as I usually mange to keep on Dan's feet.  The course is tough.  I struggled a bit, flatting in the beginning of the mountain bike discipline, but I managed to hold it together.  I've been working really hard on my run and was confident that I could pull it together.  When I got on the little beach section I gave a sigh of relief.  This is a fantastic event, so professional, hands down the best".  Duffy claimed victory in a deserving time of 02hours57minutes07seconds.  Carina Wasle (Austria) came in second, while Carla Van Huyssteen (South Africa) finished third.
The 2014 Totalsports XTERRA South African Championship presented by REHIDRAT® SPORT attracted the interests of a number of international XTERRA Warriors including:  Bart Aernouts (Belgium), Simone Calamai (Italy), Rory Downie (Scotland), Daz Parker (England), Jan Kubicek (Czech) and Llewellyn Holmes (England).
XTERRA Warriors could stock up on energy at the much loved Bokomo Breakfast Zone pre race, while the REHIDRAT® ZONE was a welcoming site for tired XTERRA Warriors as they crossed the finish line.
image credit: Jetline Action