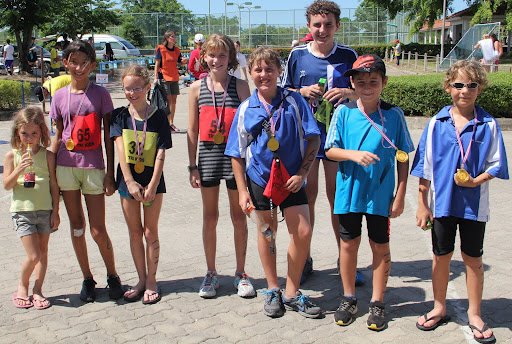 As the Ironman athletes competed in Lanzarote a whole different triathlon was taking place just outside Bangkok, Thailand as TriAsia held their first TriKids Thailand Event at Bangpoo Golf Course, Samut Prakan.
Imagine 120 kids from 7 -18 years old, many of whom experiencing their first triathlon, getting to grips with the technicalities of 3 events of different distances in different directions not to mention 'kit' like bikes (a fairly novel experience to most Bangkok kids!), helmets, shoes (!). Plus the heat and humidity and seeing a 50metre swimming pool for the first time. Watching the 7-9 year olds getting on and off their bikes, adrenaline pumping and brains not really engaged was probably the most entertaining part of the morning. Carnage!
With lovely (patient) volunteers there was no need for parents to be anywhere in the transition areas (in theory….why is there always one over competitive nutcase?). Tabitha and Rebecca Bond did a fantastic job organising the event. There were many STARS on the day alongside our own little star, our 12 year old daughter Emily and her school team from St Andrews. Ems, very much a swimmer, wrote 'instructions' on her arm to remind her when to do what and to remember to 'beep' her chip!! It worked. She remembered, finishing with a beaming smile on her face and the classic comment "Next time I'll remember to put my cycling shorts on before my running shoes"!
The next one is in September…
Thanks for the contribution of Kath Dodd