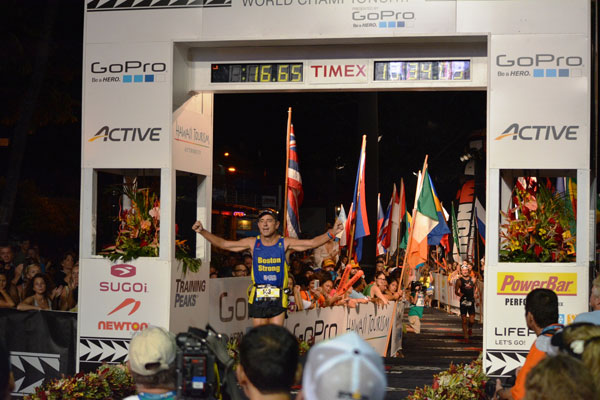 KONA, Hawaii – October 12, 2014 – Dave McGillivray, the 60-year-old race director of the B.A.A. Boston Marathon and famed endurance athlete now battling coronary heart disease, made a triumphant return to the Ironman World Championship triathlon on Saturday after a 25-year absence from the event.
McGillivray, who is a member of the USA Triathlon Hall of Fame, completed eight Ironman Triathlons in Hawaii in the 1980s. He finished 14th overall in 1980, the third year for the event, making him one of the first 30 athletes to ever finish an Ironman.
On Saturday, McGillivray finished the 2.4-mile ocean swim, 112-mile bike leg and marathon run in 13 hours, 34 minutes and 3 seconds while persisting through some of the most difficult wind, sun and heat conditions in the 36-year history of the world's toughest endurance event.
"I had two goals – first to get to the starting line and second to get to the finish line, no matter how long it took," McGillivray said. "I was pleased with my swim and my run. As for the bike, Rome was built quicker than it took me to cover the 112 miles. Wow, the wind out on the course was the toughest I've ever experienced. There were times I questioned whether I was going to even make it by midnight, but seeing all the other athletes fight though it actually inspired me to do the same. I am so impressed and humbled by the level of fitness, strength and determination of all the athletes in this race. They are truly amazing."
His impressive result comes almost one year to the day – Oct. 9, 2013 – from his diagnosis of severe coronary heart disease. Additionally, McGillivray had to deal with a fractured rib suffered in a bike accident during his training four weeks ago.
The health scare last fall prompted McGillivray to change his diet, eliminate stress and rededicate himself to fitness. Since then he has lost about 25 pounds and lowered his cholesterol level by about 100 points, reducing the disease by about 40 percent.
"Good nutrition, daily dietary supplements, regular weight lifting and 'core' work have made a huge difference, as well as the support from my friends and family and the excellent care of Dr. Aaron Baggish at Mass General," he said. "I couldn't do it without all of them."
McGillivray also went public with his disease in hopes of urging others like him to get checkups and helping them understand that "being fit doesn't mean being healthy."
His story and message caught the attention of a variety of media over the past year, and he will be profiled by NBC Sports on Saturday, Nov. 15 (1:30-3 p.m. ET) as part of its coverage of the 2014 Ironman World Championship. McGillivray said he has received countless emails and phone calls from "fit" athletes around the country who heard his story, went to get checked out and discovered similar heart issues.
"Their words, "you helped save my life" will stay with me for the rest of mine," McGillivray said. "They, like me, got a second chance."
Soon after his diagnosis last fall, McGillivray decided he also needed a big goal to help push him through: a return to Kona for his ninth Ironman.
In preparation for Saturday's event, he completed five triathlons this summer – three sprints, one Olympic distance and one half Ironman distance. He finished top three in his age group (60-64) in all five events, winning two of them. Each week, he swam 3-5 miles, biked 200-250 miles and ran 35-60 miles.
In addition, McGillivray completed his annual birthday run when he turned 60 in August (one mile for every year) as well as the B.A.A. Boston Marathon and training runs of 31 and 43 miles. He also participated this year in most of the races DMSE Sports manages – including the TD Beach to Beacon, Bellin Run and New Balance Falmouth Road Race.
McGillivray's participation in the Ironman triathlon also is benefitting the Martin W. Richard Charitable Foundation (known as MR8), named in honor of the eight-year-old boy who was killed at the 2013 Boston Marathon bombings. Donations can be made at http://www.firstgiving.com/fundraiser/dave-mcgillivray/davemcgillivraysfundraisingpage-1.
McGillivray wore clothing on Saturday referencing Boston Strong. His Ironman sponsors include Specialized Bicycles, Champion System, HUUB, Timex, Oakley, Landry's Bike Shop, Fit Werx Bike Shop and Adidas.
McGillivray, president of DMSE Sports, first gained national prominence with his 1978 cross country run that took 80 days and raised almost $150,000 for the Jimmy Fund – the first money any runner ever raised for a cancer charity, according to Runner's World. He has completed a number of similar feats of endurance since his groundbreaking cross country trek, including a second cross-country run in 2004 from San Francisco to Boston as part of TREK USA, a relay team event that raised more than $300,000 for five children's charities. He has now logged more than 150,000 miles, nine Hawaii Ironman Triathlons and has finished 131 marathons – including 42 consecutive Boston Marathons.
McGillivray, a Medford, Mass., native who lives in North Andover, Mass., is a pioneer in what is now one of the most important aspects of the endurance sports industry – combining athletics with philanthropy. Nearly every DMSE Sports event combines fitness and fundraising, giving back to the Jimmy Fund and Dana-Farber Cancer Institute, Children's Hospital, Lazarus House and many others charities and non-profit organizations in New England and across the country. He along with all the events he has directed have helped raised more than $100 million for charity over the years.
DMSE Sports is a leader in sports event management, specializing in creating, marketing and producing mass participatory athletic events throughout the U.S. and abroad. In addition to the B.A.A. Boston Marathon, DMSE manages more than 25 major road races per year, including the TD Beach to Beacon in Maine, the New Balance Falmouth Road Race on Cape Cod, the Finish at the 50 at Patriot Place, Run for the Dream in Williamsburg, Va., the Bellin Run in Green Bay, Wis., the Feaster Five Thanksgiving Day Road Race and the Across the Bay 10K in Annapolis, Maryland, among others