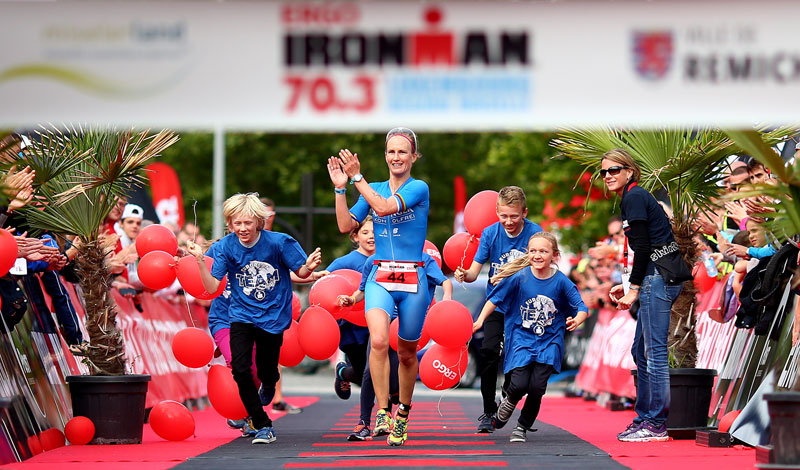 All eyes were set on multiple IRONMAN champion Andreas Raelert of Germany, but it was Swiss Manuel Kueng who took the top podium at today's ERGO IRONMAN 70.3 Luxembourg. It was the first-ever IRONMAN 70.3 win for Kueng.
In the women's race Julia Gajer (GER) managed to put more than three minutes between herself and countrywoman Natascha Schmitt who finished second.
Manuel Kueng leads all day
After a rainy start the day turned out to be perfect, with temperatures hovering around 18 degrees Celcius. The swim was held in the Mosel river. First out of the water was Pieter Heemeryck (BEL) in 21:29, followed by Swiss Manuel Kueng (21:31) and German Sebastian Veith (21:48).
Kueng had a fast transition and was first on the bike where the leading position was immediately his. Pieter Heemeryck and Patrick Lange (GER) followed in second and third, but over the second half of the bike Andreas Raelert caught up to a second position. It wasn't Raelert's day, however, and he couldn't keep the pace and lost speed.
Onto the half-marathon, Kueng kept his leading position. The gap became smaller, but the chase group couldn't keep up with him. Denis Chevrot (FRA), Lange, Bas Diederen (NED) and Raelert followed; Diederen came close, but Kueng won the race in 3:49:35. It was the first IRONMAN 70.3 victory for the young Swiss. Bas Diederen finished second, with Denis Chevrot in third.
Julia Gajer takes the win
It was a sensational race on the women's side, too. Julia Gajer (GER) was first out of water in 23:50. Natascha Schmitt (GER) was second in 24:59, and Charlotte Verhaegen (BEL) was third in 25:39. Gajer lead the race from the beginning, never to give up her position.
On the bike, Schmitt and Sofie Goos (BEL) followed Gajer in places three and four. The chasers stayed the same during the whole race.
Once on the run, Gajer increased the gap and won the race in 4:17:25. Natascha Schmitt too second in 4:20:40, and third went to Sofie Goos, who finished in 4:24:46.
IRONMAN 70.3 Luxembourg Results Top 5
Top 5 Men
1     Kueng, Manuel (SUI)     3:49:35
2     Diederen, Bas (NED)     3:51:03
3     Chevrot, Denis (FRA)     3:52:03
4     Raelert, Andreas (GER)     3:52:32
5     Lange, Patrick (GER)     3:53:18
Top 5 Women
1     Gajer, Julia (GER)     4:17:25
2     Schmitt, Natascha (GER)     4:20:40
3     Goos, Sofie (BEL)     4:24:46
4     Tondeur, Alexandra (BEL)     4:32:52
5     Halasz, Anna (HUN)     4:35:05