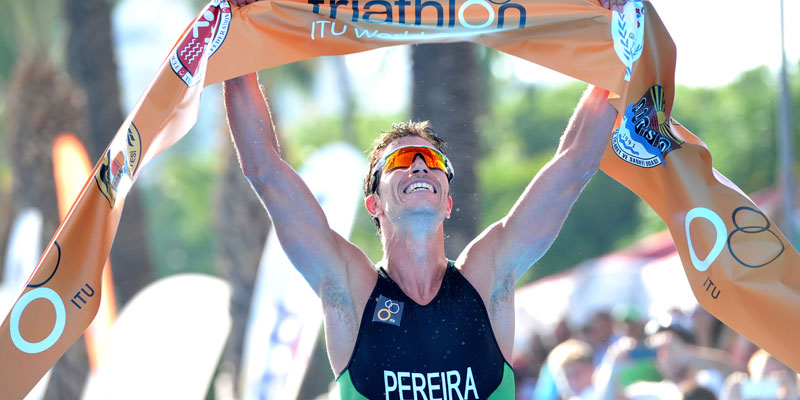 Alanya, Turkey – João Pereira (POR) topped the podium in Alanya ITU with a classy performance in the Elite Men's race to claim his first ITU World Cup win ahead of Kristian Blummenfelt (NOR) in second and Kyle Jones (CAN) in third.
Joao Pereira (POR) claims maiden ITU Triathlon World Cup win in Alanya
However, all of the eventual medallists fought to come back from a deficit after the two-lap 1500m swim, which saw Raol Shaw (FRA), Dmitry Polyanskiy (RUS), Igor Polyanskiy (RUS), and Henri Schoeman (RSA) exit first with a slight lead.
Initially, the four led a 15-man breakaway, but a large peloton, which contained Blummenfelt, Pereira, and Jones, worked together to bridge up halfway through the six-lap 40km bike course.
"I'm very happy that I finished in first position, I didn't do very well in the swimming but I don't know why," Pereira said. "In the bike I pushed to get back in the front. That second group really worked together to get up on the first group, which was really important me. On the running I went easy for two laps and one last lap at full speed. I ran a little easier than in a WTS race but I preferred it because I knew I would have a very strong last lap."
Blummenfelt, known for his power on the bike, said, "I had to work really hard to catch up on the bike, halfway through I managed to get into the lead and then I tried to save a little bit for the run."
As in the women's race that was held on Saturday, the majority of the start list entered a congested T2 together meaning the podium would be decided on a hard fought run that had a challenging hill on each of the four laps.
In the first 5km, a group of 10 men ran together, but it was a back-half strategy from the Portuguese man that would decide the winner. One of the fastest men to run in ITU races, Pereira began to push out a pace that only reigning Under23 World Champion Nan Oliveras (ESP) could answer. Together, the two took off on the final two laps with Jones and Blummenfelt attempting to follow behind them.
Pereira punched up his speed a notch on the final lap, sailing to the win in 1:45:10. The Norwegian and Spanish then took advantage of a 15-second penalty by Nan Oliveras (ESP) to reach the medals.
The podium was Jone's second consecutive World Cup podium after earning the silver medal in the Cozumel World Cup.
"I'm very pleased with the podium today, I really wanted to finish the season with high note and was able to do that, although not as strong of my legs as Cozumel," Jones said of his race. "I felt good starting to run, but didn't quite have the same pop as Cozumel, I felt if I could stay with that top group and hang tough, as the race went on the guys would fall off. I felt really strong on the hill each lap and just pushed in the last ones to create a gap."
2015 Alanya ITU Triathlon World Cup – Elite Men
1.5km swim, 40km bike, 10km run – Full results
1     Joao     Pereira     POR     1:45:10
2     Kristian     Blummenfelt     NOR     1:45:21
3     Kyle     Jones     CAN     1:45:27
4     Nan     Oliveras     ESP     1:45:31
5     Gonzalo Raul     Tellechea     ARG     1:45:41
6     Matthew     Sharp     GBR     1:45:47
7     Luca     Facchinetti     ITA     1:45:52
8     Simon     Viain     FRA     1:45:56
9     Davide     Uccellari     ITA     1:46:01
10     Rodrigo     Gonzalez     MEX     1:46:06