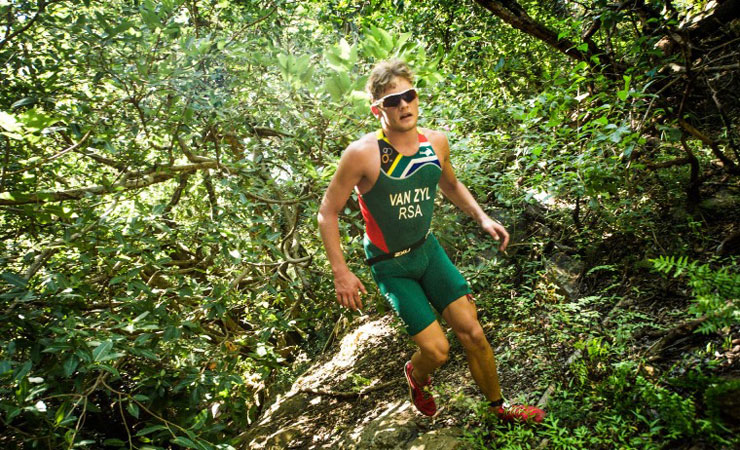 Following the action of the previous day's Totalsports XTERRA Full, just under 800 multi-sport athletes gathered at the water's edge of Buffelspoort Dam (North West Province) on Sunday, 25 January 2015 to take on the much anticipated TOTALSPORTS XTERRA Buffelspoort  Lite presented by REHIDRAT® SPORT.
The perfect introduction into the sport of XTERRA, the TOTALSPORTS XTERRA Lite features a 400m swim, 17km mountain bike and 6km trail run.
Taking no prisoners, defending champion Ruan Van Zyl set a blistering pace on route completing the event in an impressive combined time of 01 hour 18 minutes 42 seconds, successfully defending his title.  "Today was fun.  I didn't have the best swim, but I loved the cycle with its flowing, technical sections.  My legs weren't holding on the trail run, but I managed to pull through.  Buffelspoort is my favourite venue, it never disappoints".  Michael Ferreira came in second, while Michael Lord finished third.
Adrienne Moolman took top honours in the women's race completing the three disciplines in a well-deserved combine time of 01 hour 35 minutes 45 seconds.  According to Moolman, the Totalsports XTERRA Lite was lovely.   "The mountain bike route was technical, with rocks, sandy sections and a nice climb.  The trail run had two big climbs, but luckily there was a nice cool breeze.  It was absolutely beautiful.  The Totalsports XTERRA is a nice balance, the distances are not too long and you never get bored.  I plan to take part in Grabouw in February".  Jessica Alcock came in second, while Mikaela Jonsson finished third.
Heinrich Kussel, Llwellyn Lubbe and Juan-Pierre van der Merwe of the Dream Team secured the top spot on the podium in the team race with a combined winning time of 01 hours 35 minutes 58 seconds.   Team Beauty & The Beasts came in second, while Team Danwood finished third.
XTERRA Warriors could stock up on energy at the much loved Bokomo Breakfast Zone the morning of the event, while the REHIDRAT® Zone was a welcomed oasis for Warriors after a tough day of racing.
All finishers received a hard earned Totalsports XTERRA medal.
XTERRA Warrior Nieke Pelser's day ended on an extra high note as she went home with a brand new Trek Bicycle, complements of our superb bike partner.
photo credit Volume Photography
TOTALSPORTS XTERRA Buffelspoort  Lite presented by REHIDRAT® SPORT

Sunday, 25 January 2015

RESULTS

Individual Women

P_Sex

Time

Surname
Name

1

01:35:45

Moolman
Adrienne

2

01:43:06

alcock
jessica

3

01:45:32

JONSSON
MIKAELA

4

01:50:02

Constancon
Petruschka

5

01:53:32

Groenewald
Thana

6

02:01:03

De Lima
Ashleigh

7

02:01:21

Bontekoning
Brinlee

8

02:02:24

Moolman
Wanda

9

02:03:26

Steyn
Somarie

10

02:03:27

Botha
Corne

11

02:03:37

Rossouw
Zanri

12

02:04:02

Engelbrecht
Carlien

13

02:06:02

Landau
Andrea

14

02:07:05

van Heerden
Sjaan

15

02:07:26

Kriek
Gardi

16

02:08:55

Cilliers
Karlien

17

02:09:34

Russell
Manda

18

02:09:44

Geldenhuys
Ilse-Marie

19

02:10:02

Dippenaar
Elsmarie

20

02:10:03

Botes
Danel

Individual Men

P_Sex

Time

Surname
Name

1

01:18:42

Van Zyl
Ruan

2

01:19:33

Ferreira
Michael

3

01:24:14

Lord
Michael

4

01:26:06

Kennealy
Stephen

5

01:30:33

Myburgh
Adriaan

6

01:31:04

van Tonder
Wynand

7

01:31:37

Erwee
hanno

8

01:32:41

Kamffer
Heinrich

9

01:32:54

Van der leeuw
Phillipe

10

01:32:59

van der merwe
xander

11

01:33:00

Porteous
Justin

12

01:33:39

alcock
bradley

13

01:33:46

Nienaber
Martin

14

01:33:54

van der Merwe
Michael

15

01:33:54

van aswegen
juandre

16

01:34:19

Colborne
Patrick

17

01:34:31

Wehmeyer
Hendrik

18

01:34:49

mulder
mark

19

01:37:15

Moolman
Anton

20

01:38:56

Henning
Christian