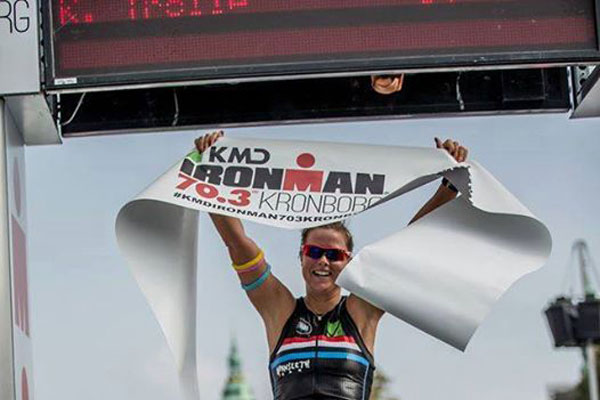 Kronberg 70.3 race report by Katrine Trolle. I must admit that this season has been exiting and great, and the last 2 months I've felt that all my hard work was paying off in my training. I felt stronger than ever, so I was looking forward to racing Kronborg as my last race before Kona.
Time-to-Tri, first met Katrine Trolle on the triathlon island of Lanzarote, where it seems like 3 long years ago, that she started moving towards the sport of triathlon. Now the winner of the inaugural KMD IRONMAN 70.3 Kronborg, this after starting many minutes behind on the bike ride.

Katrine Trolle's Kronborg Race
SWIM:
There is a reason why I always choose to race in warm weather, I am just not a fan of the cold water, but luckily there were no sign of rain or snow, so I was still positive. We started in the water, so I'm pleased that I had a chance to try that, before Hawaii. Though we started in waves the water was crowded and I was struggling to pass people, and got into a few water battles. It was a 2 loop swim in the harbor and besides swimming with other participants, we were also swimming with a lot of jelly fish, not so much fun. Swimming will never be my strongest, so I expected that I would have to play catch up on the bike.  However 8 minutes up that was a lot to catch up, but the day had just begun.
BIKE:
The bike went better than expected, I was flying and enjoying every bit.  I knew that I was 11th woman coming out on the bike, so I started counting every time I overtook a woman, but lost it at some point. With 15 K to go someone yelled that I was in 3rd position, so I stopped pushing so hard and still overtook the 2nd women. So I was off the bike as first female with a PB in the bike split. I knew at least 2 of the women not far behind me were good runners, so I knew I wasn't home safe.
RUN:
In order not to start the run too fast, I was supposed to start my watch and look at my pace for the first 5 k. However, I'm not used to racing with a watch, so forgot to start it, because I was too busy getting out of transition and out of the crowd – wow what a feeling, I still get goose bumps thinking about it. One of my big dreams has been to run behind the lead bike and that dream came true in Kronborg.
I finally got my watch to start after 2 k, and realized I was running way too fast, so I tried to take the pace down a bit, but I must admit, that I was feeling great and just wanted to run fast. Coming out on the 3rd of 4 loops I said to the lead bike: "what do you think, shall we do one more loop and call it a day"? He agreed and the last loop was pure enjoyment.
I couldn't really believe it, I was about to cross the finish line as the first woman, I felt like the happiest girl in the world. PB in bike split, PB in half marathon, 70,3 World Champ qualification – overall fastest female, this is a race I'll never forget.
Race report by Katrine Trolle
Official Race Results
Top 5 Women
1 Katrine Trolle (DEN) F25-29 4:38:40
2 Stine Møllebro (DEN) F30-34 4:41:13 + 2:33
3 Laerke Lilleoere (DEN) F18-24 4:42:33 + 3:53
4 Hanneke Boon ( NED) F30-34 4:43:57 + 5:17
5 Teresa Heimann (DEN) F25-29 4:50:08 + 11:28
Top 5 Men
1 Jens Koefoed (DEN) M40-44 4:02:04
2 Anthony Meager (GBR) M18-24 4:04:20 + 2:16
3 Peter Seidler (DEN) M30-34 4:09:55 + 7:51
4 Peter Weiss (INA) M40-44 4:10:10 + 8:06
5 Enno Hoffmann-Dose (DEN) M25-29 4:11:30 + 9:27