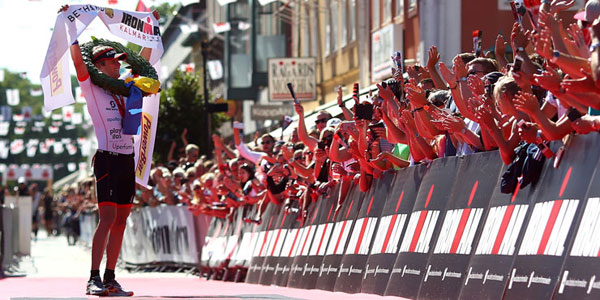 Kalmar – After fighting through a choppy swim and windy bike conditions, Patrik Nilsson and Astrid Stienen came out on top at Ironman Kalmar, Sweden.
Fourth Edition of Ironman Kalmar
The morning of the fourth edition of IRONMAN Kalmar, Sweden presented what appeared to be perfect conditions with a blue sky and temperature starting at 21 degrees Celsius. For the 2,161 athletes lining up at the start, looks ended up being deceiving. Battling the choppy waters of the Baltic Sea, the athletes began racing under challenging conditions.
Karl Johan Danielsson (SWE) took the lead in the men's race on the 3.8-kilometer swim, exiting the water first in 52:08. He held his lead through T1, climbing onto his bike in the top spot followed by Patrik Nilsson (SWE).
It wasn't long before Nilsson took over the lead at the 13-kilometer mark, but the two Swedes stayed nearby each other, changing leader positions every few kilometers. The rest of the field trailed 10 minutes behind, unable to close the gap on the leading duo. Strong winds whipped through the first 122 kilometers on the island of Öland, making the bike extremely challenging. Upon making in back to the mainland, Danielsson held the lead but was soon overtaken by Nilsson once again.
The two swapped positions again with Danielsson making it first on the run course. Nilsson caught up at the four-kilometer mark, finding his running legs and continuing to increase his gap from that point on. Dougal Allan (NZL) caught Danielsson at the 24-kilometer point and held the second place position until the end.
Nilsson finished up the day, crossing the final line with a total race time of 8:08:05. Being the first Swedish champion at IRONMAN Kalmar gave his victory a special spirit. Dougal Allan came in second in 8:25:33, with Karl Johan Danielsson in third at 8:38:07.
Stienen dominates the field
Mette Moe (NOR) dominated the beginning of the women's race by coming out of the water first in 56:02. She kept the lead through 30 kilometers on the bike when Astrid Stienen (GER) overtook the top spot and didn't give it up through the end of the race.
Moe stayed in second even though Stienen continued to increase the gap, with the rest of the women's field trailing even further behind. Erika Csomor (HUN) held third place on the bike until 100 kilometers, where Camilla Lindholm Borg (SWE) overtook her spot.
Positions stayed the same on the run until the half marathon mark. Lindholm Berg caught Moe, gaining ground toward race leader Stienen, but wasn't able to reach her.
Stienen cruised through the finish, winning her first IRONMAN race in 9:12:27. Lindholm Borg earned second place with a time of 9:18:05, followed by Moe in third at 9:28:16.
Top 5 Men
1     Nilsson, Patrik (SWE)     8:08:05
2     Allan, Dougal (NZL)     8:25:33
3     Danielsson, Karl-Johan (SWE)     8:38:07
4     Lindén, Andreas (SWE)     8:40:40
5     Näsvik, David (SWE)     8:43:06
Top 5 Women
1     Stienen, Astrid (GER)     9:12:27
2     Lindholm Borg, Camilla (SWE)     9:18:05
3     Moe, Mette (NOR)     9:28:16
4     Csomor, Erika (HUN)     9:41:53
5     Haller, Esther (SUI)     9:58:51