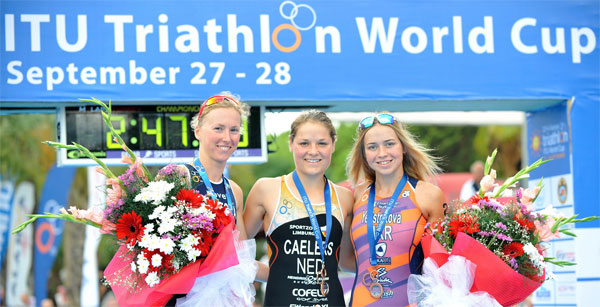 After a tough season of injuries and illness, Maaike Caelers (NED) found redemption towards the end of the season with a win at the Alanya World Cup. Vendula Frintova (CZE) out sprinted a fierce pack of four down the finish chute for silver, while Yuliya Yelistratova (UKR) scooped up bronze.
The day started with Summer Cook (USA) and Gaia Peron (ITA) trading off as leaders on the two-lap Mediterranean swim to enjoy a small gap in transition. But powerful cyclist Annamaria Mazzetti (ITA) quickly ended any hopes of a breakaway for the duo, as she took over as the leader by the first turn around the bike course.
Junior World Champion Laura Lindemann (GER) showed grit when she grinded away with the leaders despite her young age. Audrey Merle (FRA), who finished third to Lindemann at the Edmonton World Championships, also managed to make the pack, as did U23 bronze medallist Erin Jones (USA) and pre-race favourites Rachel Klamer (NED) and Vendula Frintova (CZE).
Together the ladies etched out a 40-second advantage over the front two laps, but the determined Caelers and Felicity Sheedy-Ryan (AUS) made a gutsy move on the third lap to bring the 25-deep chase pack within 10 seconds of the leaders. The decision put tough runners like Sheedy-Ryan and Under23 World Champion Sophia Saller (GER) back in the mix, which changed the end game with the group having bridged up the next lap.
A congested transition saw 39 athletes drop their bikes off together and head out on the twisting four-lap 10km run together. But it was Caelers who kicked to the front of the group straight away.
In the beginning Sheedy-Ryan and Gillian Sanders (RSA) answered Caelers' smoking speed, as did Saller, Frintova, Yelistratova and Merle. But the Dutch was too quick and quickly ditched the pack on the second lap.
Caelers, who had lost a close friend earlier this week, found redemption near the end of the season with a spicy final two laps that saw her win the Alanya World Cup.
Behind her, a steamy battle for the final two medals was underway between Saller, Frintova, Merle and Yelistratova. But experience won out over youth with Frintova finding a final sparking in her legs to surge past Yelistratova in the final metres, leaving bronze for the Ukrainian.
Saller was fourth just two seconds later, followed by Merle two seconds after that making the futures look bright for the young athletes.
image credit: Triathlon.org