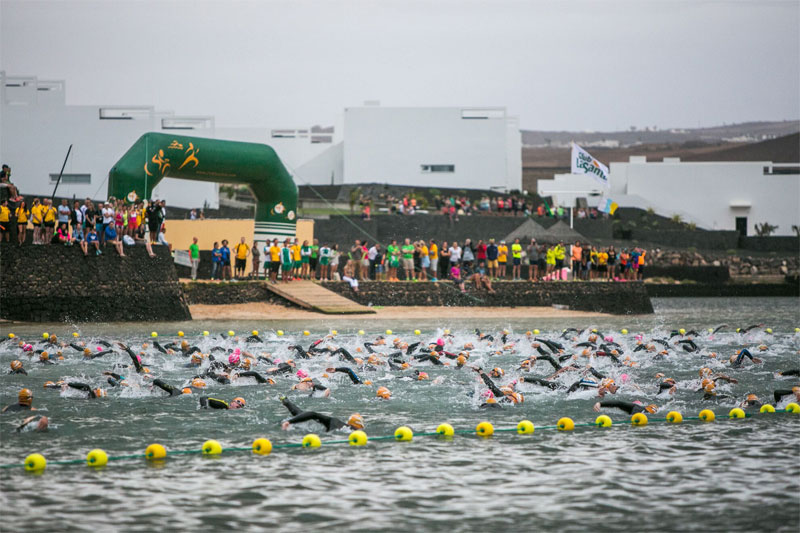 Eneko Llanos and Jodie Swallow, two of the world's top triathletes took the Club La Santa IRONMAN Lanzarote 70.3 titles today, showing great skill and experience amongst a respectably high level field. With comfortable victories and in evidently great form, both Llanos and Swallow head off for the World Championships in Kona, only three weeks away.
Moody calm skies marked the start of the 1.9k swim and a slightly warmer than usual lagoon temperature of 24°C led to a race-day decision to disallow the usage of wetsuits for the Pros, whilst age group participants were free to choose.
The lead pack out of that was headed by Canarian half-distance rookie Ricardo Hernández, member of the Spanish Olympic distance team. Straight after him came Frenchmen Romain Guillaume and Anthony Costes in a tight group which also included first lady Jodie Swallow, well ahead of her adversaries. Whilst posting an amazing swim split with only 14 seconds behind the leader and two seconds behind Llanos, Jodie added that "the swim was tough as I was amongst the top men and got beaten up a little bit, there's not a lot of chivalry in triathlon so it was quite hard."
Optimal winds of 19kms an hour blessed our triathletes on their journey onto the bike course which saw cycling phenomenon Guillaume predictably charge ahead and lead without sight of his nearest rivals for most of the way, leaving him in what appeared a comfortable position. Jodie Swallow also led by around 9 minutes during the bike course though at a mechanical problem almost took her out of the race, but which was then thankfully resolved by the race bike mechanics who were close behind. Second female Jeanne Collogne had practically secured her second place on the bike course in front of a determined Spanish pack which saw Aida Valiño just ahead of Saleta Castro and Marina Damlaimcourt, battling for position.
Under sunshine and warm temperatures Guillaume arrived at the Club La Stadium first for T2 although Llanos and Costes had closed the gap and were only a minute behind. Our leader raced hard, though was passed by Llanos at the end of the second loop "Romain was keeping a good pace though just as we came into the stadium at the end of the second loop, I had a flash of inspiration and overtook him. I'm really happy with my win and I feel in great shape to go to Hawaii," beamed Eneko.
Romain Guillaume was also very pleased with his second place result, having improved from last year's third: "This year was a lot different to last year as I've improved my running a lot and I'm very happy with the result. Last year third, this year second, next year first!" He laughs.
Jodie Swallow, currently 2nd in the world IRONMAN ranking, easily took the women's title in some 13 minutes ahead of her nearest opponent "Even though I used to train a lot on the island I'd forgotten how hard it can be. I paced myself and I'm really happy with my performance. It's great to finish well after recent injury and accidents and I feel in great shape to take on Kona next month."
It was vice-champion Jeanne Collogne's first race on Lanzarote "I love it here, the bike course was my favourite and the organisation was perfect. I can't wait to come back for IRONMAN Lanzarote in 2016".
Galician Saleta Castro stormed home in third place having broken away from her compatriots during the run to clinch a place on the podium. "I'm so happy, I didn't expect to finish third. I raced quite conservatively, stuck to the watts and other recommendations of my coach Luc Van Lierde and it paid off! I've only been training with him for three months but he already seems to know me so well"
Lanzarote 70.3 Results
Men:
1st:  Eneko Llanos         04:06:26
2nd: Romain Guillaume   04:06:42
3rd:  Anthony Costes      04:07:44
Women:
1st:  Jodie Swallow          04:29:48
2nd: Jeanne Collonge      04:42:00
3rd:  Saleta Castro          04:55:05