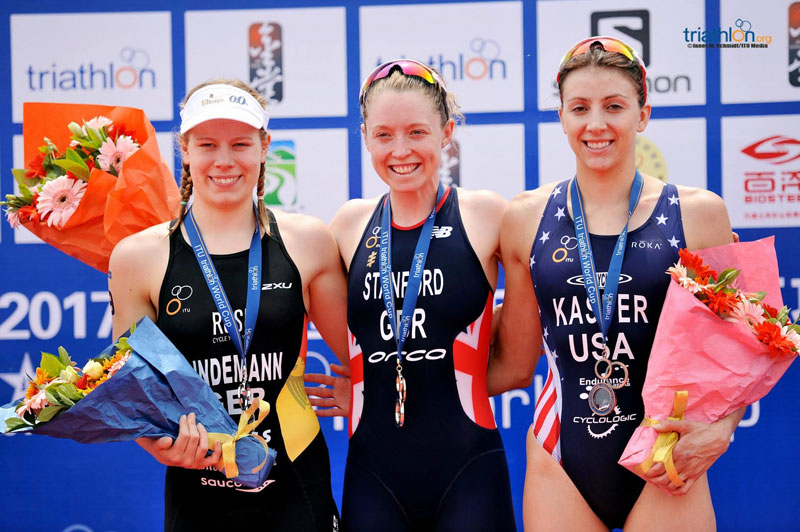 CHENGDU, CHINA – To conclude the season's first semifinal/finals race format of the season, Australia's Matthew Hauser and Great Britain's Non Stanford earned first-time career World Cup wins at the 2017 Chengdu ITU Triathlon World Cup on Sunday.
Matthew Hauser wins Chengdu World Cup Race
Starting his ITU World Cup career off on the right foot, Aussie Matthew Hauser earned the gold medal in his debut WC race at the 2017 Chengdu ITU Triathlon World Cup. Taking sixth place in his semifinal heat the day before, Hauser conquered the super sprint distance on day two of racing to earn the winner takes all prize of standing on his first WC podium.
The silver medal went to Rostislav Pevtsov (AZE), who for the third year in a row took second place at the Chengdu World Cup. The bronze then went to Aussie compatriot Luke Willian who collected his second WC medal this year after winning in Mooloolaba in March.
Right after the race, Hauser said: "I'm absolutely stoked, it was my debut world cup after doing Gold Coast WTS a couple of weeks ago. I'm really pleased with the effort and I'm looking forward to the rest of the year". "I knew I conserved a lot of energy yesterday in the heats and just did what I could to get to the final. I knew it was always going to be a running race today, so I tried to conserve on the swim and bike and save it for the run and I managed to execute the processes right", explained.
Non Stanford wins Women's Chengdu World Cup Race
While she is no stranger to winning, Great Britain's Non Stanford and former ITU World Triathlon Series World Champion of 2013 has never won a World Cup race in her career, until today. The Brit earned her first career WC gold after surviving two days of racing at the 2017 Chengdu ITU Triathlon World Cup in her first WC race since 2011.
Joining Stanford on her first WC podium was Germany's Laura Lindemann who earned the silver. While she also is a two-time World Champion for U23 and Junior racing, she debuts to the WC podium in Chengdu. Finishing off the medal count is Kirsten Kasper (USA), who returns to the WC podium for the first time since winning in Salinas last year.
"Is always great always to star the season with a win, but I was not confident until the end, because everything was so quick. The key thing today was to have good transitions, and I'm not known for my good transitions, so I just focussed on staying calm and getting out fast", said Stanford after her victory. "I knew there were a few strong runners on the field today and that it could be a sprint finish, but I was quite confident in my ability and didn't worry too much, and that helped a lot", she said.
In the semifinal rounds on Saturday, the top 14 women from each heat qualified for a spot in the "A" Finals, along with the remaining top-two times to complete the 30-women start list.