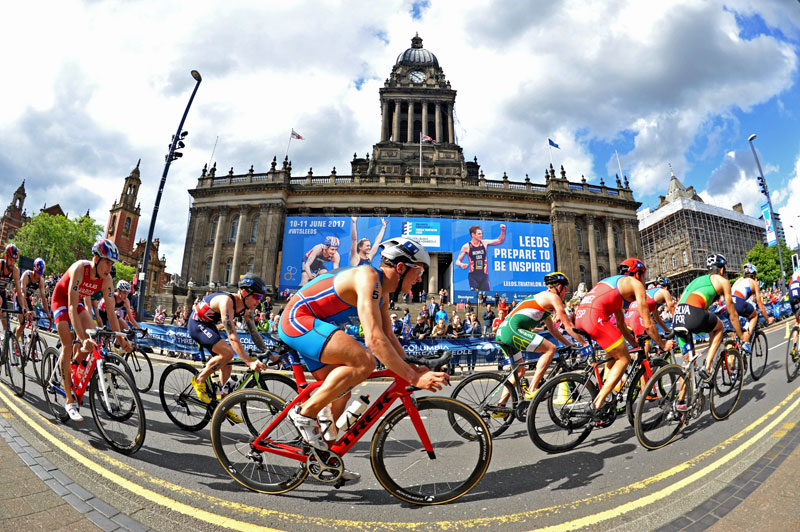 ITU LEEDS, ENGLAND – On a day where the streets were lined with thousands of spectators to watch the world's fastest triathletes compete, Bermuda's Flora Duffy and Great Britain's own Alistair Brownlee claimed victory at the 2017 Columbia Threadneedle World Triathlon Leeds.
Alistair Brownlee, Flora Duffy dominant at ITU Leeds
Duffy's win was her second consecutive World Triathlon Series win of the season, while Brownlee returned to the WTS to race on his hometown course and earned the gold for the second year in a row.
ITU LEEDS WOMEN'S RECAP
Earning her fourth career World Triathlon Series victory and second consecutive win of the season, Flora Duffy (BER) claimed the 2017 Columbia Threadneedle World Triathlon Leeds in a near-perfect race scenario.
Exiting the waters among the leaders and then joining a small and fierce lead bike pack that worked well together to earn a large advantage, Duffy entered the run with a clear shot of earning the day's gold medal. Giving her a second WTS win of the season and a trade up from the silver medal she earned in Leeds in 2016, Duffy's victory also puts her in a solid position to continue her quest of reclaiming her World Title.
Duffy said of how the race played out, "I came out of the water in a good position and luckily the girls on the bike were keen to work with me. So perhaps they picked up on if you ride hard there is an opportunity to podium, so we made a huge gap and yeah it was fantastic. You know this was Taylor's (Spivey) first podium and Alice's (Betto) as well, so that is really cool and I am super happy for them."
"Four was perfect, especially when we came into the circuit because it is so technical here, so the smaller the group is the faster you get through the corners and just the more efficient you are. Those girls rode super well technically so it helped the speed, so we just gradually just put more and more time into the chase group, which was pretty cool," she said of the small lead bunch she cycled with. "Obviously you go into each race with a goal, so yeah it is nice that I have won the first two, which kind of came as a surprise but I guess I will just keep the momentum going."
Joining the reigning World Champion on the podium was two WTS medal first-timers: Taylor Spivey (USA) and Alice Betto (ITA). Spivey earned the silver medal, advancing from her first-time silver medal she earned in Madrid in the World Cup circuit only a few weeks before in order to become only the seventh woman in the USA to make a WTS podium.
2017 ITU World Triathlon Leeds – Women's Results
Results: Elite Women
1. Flora Duffy BER 01:57:02
2. Taylor Spivey USA 01:58:32
3. Alice Betto ITA 01:59:36
4. Kirsten Kasper USA 02:00:33
5. Ai Ueda JPN 02:00:59
6. Jessica Learmonth GBR 02:01:06
7. Gillian Backhouse AUS 02:01:06
8. Ashleigh Gentle AUS 02:01:40
9. Charlotte McShane AUS 02:01:50
10. Juri Ide JPN 02:01:53
ITU LEEDS MEN'S RECAP
Despite dedicating his season to longer distances, Great Britain's Alistair Brownlee returned to the World Triathlon Series to reclaim his hometown race at the 2017 Columbia Threadneedle World Triathlon Leeds. For the second year in a row, the two-time Olympic Gold Medallist wowed the crowd and put forth an incredible performance and remain undefeated on the Leeds course.
Alistair commented on his return win, "Yeah. I mean obviously races like that take a bit of circumstance to help you out. It was the little bits I didn't know – I didn't know what I'd be like in the swim start and I didn't know if I'd struggle that first part of the bike because I haven't done a lot of training for that kind of thing. Obviously little bits like that make the race and they did today – fortunately I felt good."
Commenting on how the chase pack were close at one point, Alistair said, "when it was that close, Jonny said 'let's call it a day now and give up', and I just said 'No, let's keep working because they've still got to catch us at the end of the day' and the time started going out. We just kept working hard and we stretched it out. We had to work a lot harder in the first 2 or 3 laps in the city centre circuit than we've had to work before and that tired us out quite a bit."
"I think it's an all-round triathlon today – you need to be able to swim – my swim wasn't great, I was 5th/6th and I had to move up – you need to be able to ride hard, tactically and technically, and do a good run at the end. There's not that many races in the world that require you to race three disciplines."
Finishing right behind Alistair was his younger brother Jonathan Brownlee, who earned the silver medal and allowed the repeat of the Brownlees going 1-2 in the WTS Leeds event for another year.
2017 ITU World Triathlon Leeds – Men's Results
Results: Elite Men
1. Alistair Brownlee GBR 01:46:51
2. Jonathan Brownlee GBR 01:47:03
3. Fernando Alarza ESP 01:47:28
4. Adam Bowden GBR 01:47:41
5. Thomas Bishop GBR 01:47:50
6. Kristian Blummenfelt NOR 01:48:06
7. Joao Silva POR 01:48:58
8. Pierre Le Corre FRA 01:48:58
9. Vicente Hernandez ESP 01:49:04
10. Vincent Luis FRA 01:49:12