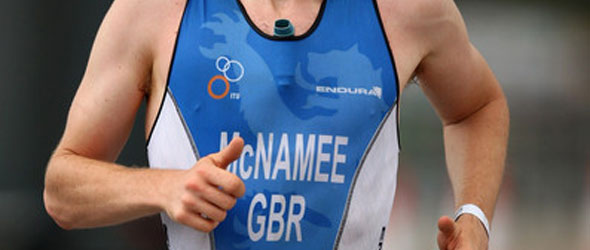 Irvine triathlete David McNamee kicked off the season he hopes will take him to the London 2012 Olympic trials by winning the Scottish Universities Sprint Championships for the fourth time in Tranent, East Lothian.
The 22-year-old, now studying accountancy at Stirling University, beat Kinross's Cameron Milne into second place  by around three minutes.
"The first race of the season is always a struggle when you haven't done a triathlon for six months," said McNamee after completing the 750 metres swim, 18km bike ride and 5km run in 55 minutes and 24 seconds.
"It's a bit of a shock to the system but today was less of a shock than most years so that should point to good things."
Over the next fortnight McNamee will compete in Turkey and Portugal to begin the process of achieving a qualifying place for the GB London Olympics team.
"My aim is to get to the start of the Olympic trials," he said.   "There are seven slots available for team GB to get to the trials, so for that, next week and the week after is pretty crucial for that.
"Then I will need to go and do a few world cups probably in Mexico and possibly a race in Madrid to try and get myself to the start line this year for Olympic trials in London on 8 August."
A member of GB's World Class programme, McNamee is supported by triathlonscotland and sportscotland's institute of sport, which focuses on preparing Scotland's best athletes to perform on the world stage by providing high performance expertise.
"I'm fortunate to be able to train with the Scottish triathlon squad in Stirling," he added.
"And I'm getting great support from the institute.  I've had back problems for the last couple of years so I'm lucky to be in the position where I can see strength and conditioning coach Scott Crawford twice a week and also I see the physio Maggie Bush.  They have been key people for me."