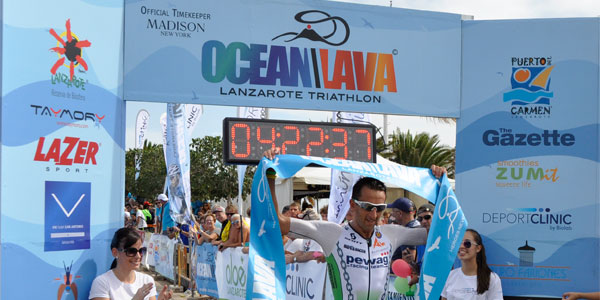 Yet again, the sunkissed island of Lanzarote provided an event of immense entertainment via 2013 Ocean Lava Triathlon.
On a day where the heat was an intense factor in the athletes' ability to triumph over the rugged and testing volcanic course, the lanky Belgium athlete, Marino van Hoenacker, proved supreme. Taking the race by the scruff of the neck 15km into the cycle leg, the mild mannered warrior stamped his authority on the race to power so far ahead of his rivals that he could afford to cruise the last 21km run leg in 84 minutes. His overall winning time was 4:22:35 a comfortable victory by 6 minutes 33 seconds ahead of 2nd.
Peru Alfaro from Spain, came through to take 2nd place, after Germany's Johann Ackermann faded from contention after being as close as 30 seconds off the front 35km into the cycle leg.
The defending female champion, Maja Stage of Denmark, also powered into the lead on the cycle leg after being around 4 minutes off the pace after the swim, once the Dane took the lead there was no stopping her on the way to victory in 5:00:45.
Bella Bayliss maintained her 2nd place in Women's section to finish in just over 5 minutes behind the victor in 5:05:59.
Nicole Woysch duplicated her German compatriot by achievement, by clinching 3rd place in a time of 5:17:08
This rounded up the Top 3 in the Men and Women in the 70.3 distance, while Luxembourg triathlete, Bob Haller, comfortably won the Olympic distance in 2:19:36 with the Gran Canarian, Patricia Diaz Perez, overwhelmingly dominant in her division in 8th place overall in a time of 2:30:13
Splendid racing at the top and outstanding performances throughout the day.
Further wrap up report to follow
Author: Gavin Doyle